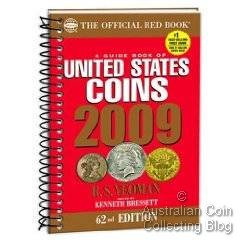 The Official Red Book: A Guide Book of United States Coins
Finding an old group of coins hidden away in a bag or a box or an attic or a cellar or drawer from a long lost uncle or a grandparents passing can be very exciting indeed. But where do you start? Are these coins actually worth anything? Just to start with I should just mention -Don't clean them if they look dirty! That can be a subject of a future post but it has to be said. You could ruin a valuable coin by attempting to clean it.
So, where to start with this group of coins? You could ask your local friendly coin dealer to value your old coins but I find I like to form my own opinions based on my own research so I am not led astray. I have found google search a particularly useful source in finding information online about identifying obscure coins and about online pricing. There are some excellent publications you can purchase that might help you identify your coins and give you an idea on pricing. For Australian coins and banknotes from sovereigns to pennies to platinum koalas, paper notes to polymer, sets and special issues you can't go past "The pocket Guide to Australian Coins and Banknotes" By Greg McDonald as a valuable reference. It is currently in it's 15th edition with a new edition due around Christmas time. This is a handy pocket sized guide which I carry around to shows, fairs and markets where I can quickly and easily find out the current values of old Australian coins and banknotes I may come across. Another handy reference for Australian coins is "Renniks Australian Coin & banknote Values" (currently 22nd edition) which also contains information on popular varieties and errors.
For US coins the key reference is "The Red Book" vital in determining those old coin values. It is published annually and contains issue prices and current values for all United States coins from Colonial and pre-federal State Issues to all circulating issues as well as commemorative and modern day Bullion coins, as well as other U.S. patterns, private and territorial gold, Hard Times tokens, Confederate issues, Hawaiian tokens and coins, Philippine issues and Alaskan tokens. "Krause" is another "bible" of world coin collectors and "Spink" for British coins.

Posted by harrisk at October 31, 2008 12:58 PM
Subscribe to our Newsletter