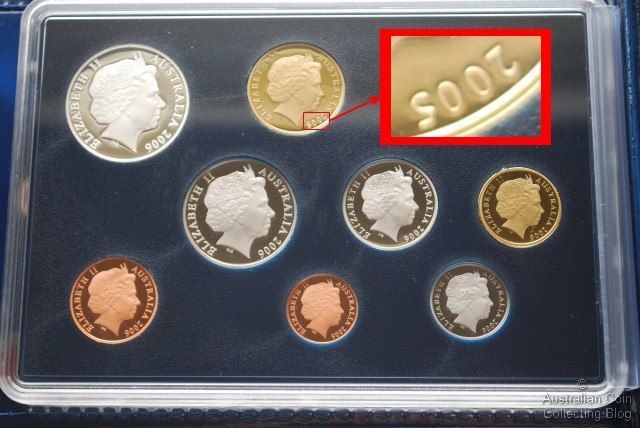 Australia 2006 Proof Set - Highlighting Date of 2005 Proof Mule
Something went awry at the mint sometime during the year of production of the 2006 proof sets. In 2006 a customer of Downie's purchased a 2006 proof set and when they looked at the set they noticed that it in fact wasn't a complete year set of 2006, it accidently included a proof 1 dollar coin from 2005. The customer in thinking they got a faulty set promptly returned it to Downie's to swap for an accurate set. Now if you had any knowledge of coin collecting and were following the coin issues you would probably faint with excitement if this happened to you.
As the information in the 2005/2006 proof coin set entry states the proof $1 coin of 2005 was meant to be the dancing man dollar. IN FACT no proof mob of roos standard design coin for this year was meant to be produced. Downie's promptly checked all it's sets and approximately 20 of these sets were found. They were then put in their monthly magazine for a tidy sum of $1995 each, really just a number they pulled out of a hat I think , whether or not they expected to sell them at that price it was the precedent to be set. Considering issue price was just $80 personally I thought this was a bit steep. So, those who procrastinated missed out as these 20 sets sold in a record time, as I recall only a day or 2 they were gone. It was now a frenzy for every other collector to check their sets and a few other sets were found in the Brisbane area. To my knowledge around 40 of these sets are known to exist. A few sets sold in the months after this on eBay fetching around $3000.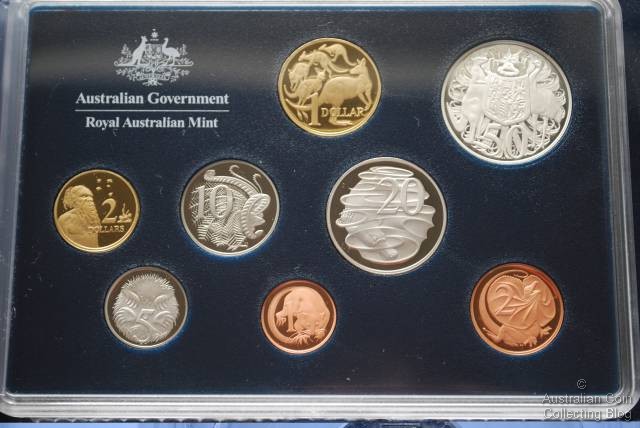 Australia 2006 Proof Set - Note Mob of Roos Reverse on Dollar Coin
This error hasn't been officially recognized by the RAM but having seen one of these sets I can assure you they do exist. This is a standard design coin if you saw this coin you would pass it off as a normal issue.

The RAM did in fact release some standard mob of roos designed 2005 dollars into circulation but the proof coin is different. As the design in the proof sets is the dancing man dollar the mob of roos design for the year 2005 just isn't meant to exist. The numismatic term "mule" has been used to described this error coin but is that a correct definition? I will discuss this in part 2 of the 2005 Proof Mob of Roos dollar debate.

Posted by harrisk at February 15, 2009 8:28 AM
Subscribe to our Newsletter