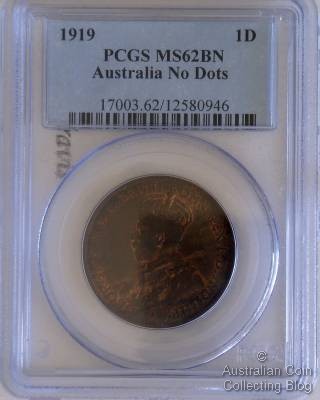 PCGS MS62 Australia Penny
Slabbed Australian coins are a relatively new thing in the Australian coin market. Slabbing coins has been common in the USA since the 1970's but it really has only been in the last year or two that numbers of slabbed Australian coins have come onto the market. The majority of slabbed coins that I have seen have been in PCGS or NGC plastic. I tend to see mostly pre-decimal coins (siver, gold, and copper) in PCGS plastic and sovereigns, modern NCLT and bullion issues issues in NGC slabs. I can only guess why this might be the case, with coin submitters believing that PCGS does a better job with commonwealth coins and there being no appreciable difference with gold or modern releases. NGC is cheaper to have coins graded so if there is no perceived difference in grading quality then collectors must send their coins there!
Regarding the quality of coins in slabs, I've seen everything from true rarities to other coins that leave you scratching your head as to why it is even slabbed in the first place. As always I live by the axiom of buying the coin not the holder. I have been to coin shows where I have seen dozens of coins in PCGS slabs and I wouldn't buy one of them, fingerprints, ugly toning, waterspots, traces of PVC damage or verdigris, and ugly debris stuck to the coins! Now, while none of these are serious problems they do detract from the eye appeal of the coin and I'd always pass on them unless they truly are best of breed! The cost of slabbed coins in Australia is still at a premium, some dealers pitch them at the premium end of the market and expect outrageous prices for coins that have the top grade for the type. The term used is "finest known" which of course is finest known in a slab which implies the best coin in existence but with so few Aussie coins slabbed by PCGS or NGC this is simply misleading. As always, caveat emptor and make sure you know what you are buying!!!
Good sources of slabbed coins in Australia include The Purple Penny ,Drake Sterling, Pacific Rim Coins, and Walter Eigner Numismatics. Of course eBay always has a few slabbed Australian coins listed and Northeast Numismatics in the USA has a variety of (mostly NGC) slabbed Australian coins. It can also be worth looking at various Australian coin auctions because slabbed coins are often appearing in these catalogues these days!
Posted by mnemtsas at February 2, 2009 11:47 AM
Subscribe to our Newsletter