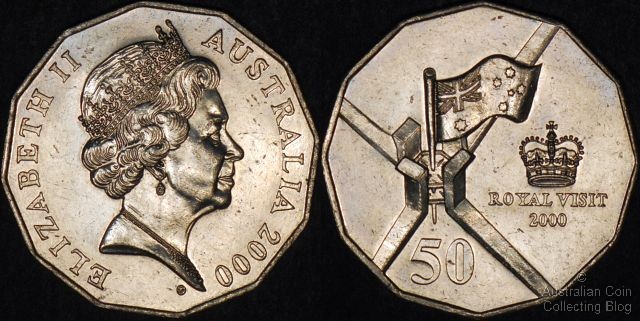 Australia 2000 Royal Visit 50 cent -found in change
To commemorate the official visit by Her Majesty Queen Elizabeth II in 2000 a special 50 cent was struck for circulation.

The reverse design featured the flag pole at Parliament House in Canberra ACT flying the Australian flag and a small St Edward's Crown. This crown is believed to contain gold from the crown of Edward the Confessor, who is thought to be the first monarch to assemble a regalia.
The most interesting fact to note about this coin is it's obverse design. It is an entirely different design to all other effigies on our decimal currency. In 1996 the RAM was invited to submit designs for an update to the portrait of Her Majesty on the obverse of Commonwealth coinage. The RAM's in house designer at the time Vladimir Gottwald submitted his design and was among the final 3 viewed by the Queen herself for approval. Although the Ian Rank-Broadley effigy was chosen, Gottwald's design was approved for a one time striking on this 2000 Royal Visit 50 cent.
Royal permission for the use of his design on the coin was only granted from Buckingham palace on the eve of the Queen's visit. For the first time in Australia since 1936 an obverse was created by an Australian designer.
It is truly a unique issue being the only Australian coin with this portrait and also that this coin was designed entirely by Vladimir Gottwald, both the obverse and reverse sides.
Ammendment January 2011: This same Vladimir Gottwald obverse was used on all the coins in the 2010 gold year set commemorating 10 years since this obverse was used.
Posted by harrisk at April 13, 2009 1:23 PM
Subscribe to our Newsletter