If you're collecting the special mint mark, privy mark and counter stamp dollars released by the Royal Australian Mint or special releases from shows you'll see that they're issued in a folder as shown below. Each year is a different folder and during the year there are different marks on the coins denoting their origins.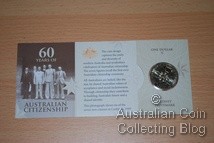 Australia 2009 Privy Mark Uncirculated $1
I thought I might share my method of removing the dollars from these folders with you. Before I learned this trick I recall it was a tremendous effort to try and remove the coin without damaging the folder or the coin. This method removes the coin quickly and safely so you can store your coin in a staple 2x2 away from the elements. The folders that the uncirculated dollars come in are not sealed from the elements therefore are prone to toning or environmental damage.



The removal process
Tools for this little trick are simply 2 toothpicks. Slide each toothpick one at a time gently in the folder opening up each side of the coin. You can use the edge reeding on the coin to grip the toothpick and ease the toothpick out, this will roll the coin gently out of the holder. Then using your gloves you can place your coin into the 2x2 holder and staple it up. Very simply and without fuss it is easily done!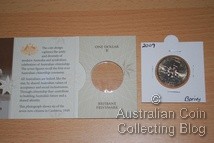 The end result!
Posted by harrisk at May 10, 2009 3:59 PM
Subscribe to our Newsletter