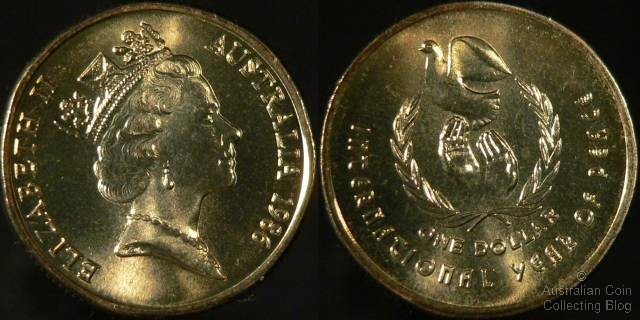 Australia 1986 $1 Year of Peace - Reverse Designed by Horst Hahne
Designer and engraver Horst Werner Hahne is best known for his depiction of an Aboriginal elder on the Australian 2 dollar coin. This design, one of many coins by Hahne is also his favourite design. He has designed many Australian and South Pacific coins, medals and medallions.
Hahne was born in Germany in 1940. He emigrated to Australia in 1959 with no English, no money, no home and no job but a determination to succeed in his dream of starting afresh. After time in a migrant camp he was employed as a die stamp hand-engraver with Griffith Press in Adelaide. Here he honed his craft engraving dies for Post Office first day covers, business cards and letterheads, his boss teaching him the skills of the English language.
In 1965 Hahne moved to Canberra and was employed by the Royal Australian Mint as hand-engraver of coin and medal dies. This job involved engraving, hubbing and finishing coin, proof and medal dies and tooling. He was also a student at the Canberra School of Art. In 1979 Hahne was appointed Chief engraver at the RAM.
In 1979 Hahne's first coin design was a 50c released by Fiji, this was succeeded by numerous Australian designs from 1983. Popular Australian coin issues designed by Hahne are:

$2 coin


1986 Year of peace $1


1995 50th anniversary of the United Nations 20 cent


1995 Weary Dunlop 50 cent


1985-1994 $10 State series


1989-1994 10 dollar Bird series


Hahne has also designed many medals and medallions for private and public organisations. These include:

Anzac Peace Prize


Ausipex 1984 (International philatelic exhibition)


the Senate Medal


The $10 Bird series (as mentioned above) won Hahne a design award in 1993. A highlight for Hahne as he was a keen birdwatcher. The highlight of his career was being awarded the Public Service Medal in 1996, the medal designed by Stuart Devlin. This, Horst felt was formal recognition by his adopted country for his outstanding efforts.
Posted by harrisk at June 13, 2009 4:27 PM
Subscribe to our Newsletter