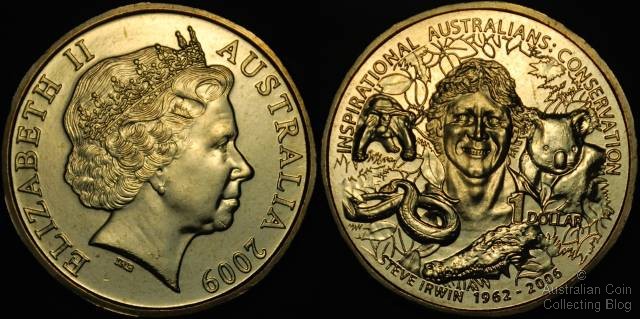 The Steve Irwin One Dollar Coin
Another dollar coin issue in the Inspirational Australians series from the Royal Australian Mint, the Steve Irwin Dollar. Our very own Crocodile Hunter who died tragically in 2006 is forever inscribed onto this new dollar released July 6th 2009. The 25 millimetre aluminium bronze dollar is only available on a special descriptive card in uncirculated condition and will never be seen in circulation.
Steve was a truly inspirational Australian with his larrikin personality striking a chord with many Australians through his award winning wildlife documentaries. His passing was truly a sad day when he was hit by a sting ray barb whist filming off Port Douglas in far north Queensland in 2006. Steve's passions have continued through his widow Terri and their children Bindi and Bob and their work at Australia Zoo and the charity Wildlife Warriors.
This Crocodile Hunter 1 dollar coin was designed by Caitlin Goodall and depicts Steve's portrait surrounded by some of his favourite wildlife, a Koala, Crocodile, Snake and Galapagos Tortoise in rain forest foliage. This unlimited mintage issue at $12.95 is sure to be popular both here and overseas with Steve Irwin Day to be celebrated on the 15th November.
For accurate coin mintage data please see the 2009 Australian 1 Dollar Coin Mintages table.
Posted by harrisk at July 26, 2009 2:08 PM
Subscribe to our Newsletter