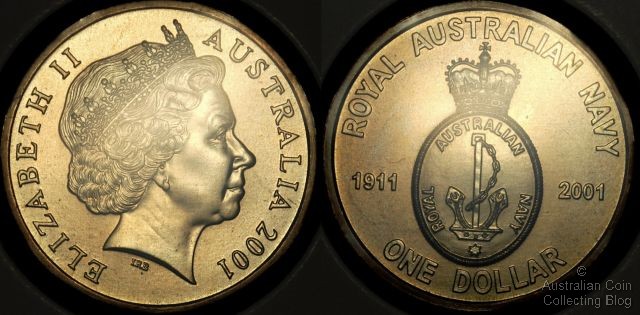 Australia 2001 90th Anniversary of the Navy Dollar
The navy of Australia is known as the RAN (Royal Australian Navy) and was founded in 1911. To celebrate the event the Royal Australian Mint released a non-circulating legal tender (NCLT) one dollar coin in a collector folder. The RAN was proposed in discussions between Australian authorities and the British Admiralty in 1909, and in 1911 the ships Yarra and Parramatta became the first ships of the Royal Australian Navy. The ships remained under the control of the Royal Navy until 1913 when they along with the flagship HMAS Australia and the cruisers HMAS Melbourne and Sydney passed to the control of the Australian Commonwealth Naval Authority. The RAN fought in WW1, WW2, Malaya, Korea, and Vietnam. Since those times it has conducted operations in support of the UN in areas such as the Persian Gulf, Somalia, East Timor, and the Solomon Islands.
The RAN dollar is an NCLT coin (62,429 minted) and was struck in Aluminium Bronze with no mint mark. It was available in a collector folder by mail order from the RAM or via coin dealers. Seen above the obverse of the coin depicts the Ian Rank-Broadley portrait of Queen Elizabeth II. The reverse is sculpted by Vladimir Gottwald and shows the RAN badge surrounded by the legend Royal Australian Navy 1911 - 2001. The RAN badge was adopted in 1949, it depicts the Queens crown on top of a knotted rope surround. In the surround is an anchor and chain, the words Royal Australian Navy, and at the bottom the Australian Federation Star.
For accurate coin mintage data please see the 2001 Australian 1 Dollar Coin Mintages table.
Posted by mnemtsas at August 15, 2009 4:36 PM
Subscribe to our Newsletter