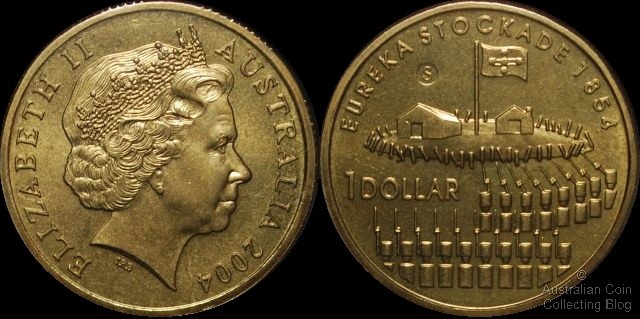 Australia 2004 Eureka Stockade Dollar
1854 saw the biggest act of rebellion in the short history of Australia at Ballarat in the Colony of Victoria. Some 10-15,000 miners protesting against extremely high mining license fees, corrupt government agents, and the total lack of rights for miners (such as the rights to own land and the right to vote) formed the Ballarat Reform League. Over the period of a few weeks they organised a rag tag military force, designed and flew their own Eureka flag (the famous blue and white southern cross flag used to this day as a sign of protest), and elected a leader, Peter Lalor. In December 1854 a combined force of police and soldiers marched to Ballarat intent on putting the rebellion down. The miners fortified themselves within a shabby barricade of wagons and timber (the "Eureka Stockade"), that was intended as much to keep the miners in one place as for defense. It is not known who fired first but it is known that the miners were routed by the professional colonial force in 10 minutes with about 20 deaths on the side of the miners and 6 on the side of the soldiers. The Eureka rebellion was over but a campaign of civil disobedience continued in the Colony of Victoria for the next several years and the eventual granting of voting rights to all males in the colony resulted with much public support. Peter Lalor, the rebellions' leader was even elected to the Victorian Parliament and served for a time as it's speaker! To commemorate the 150th anniversary of the end of the Eureka Stockade the Royal Australian Mint released an NCLT aluminium bronze dollar with C, E, S, B, and M mintmarks. The mintages were as follows:
70,913 C mintmark
95,948 E mintmark (including 6,672 minted on a mobile press in Ballarat, and another 50 or so minted on the same press in VIP presentation folders)
45,098 S mintmark (including 9,615 minted on a mobile press at the Royal Easter Show in Sydney)
33,835 B mintmark (including 1,693 minted on a mobile press at the Brisbane ANDA show in 2004)
37,526 M mintmark (including 9,184 minted on a mobile press at the Melbourne ANDA show in 2004)
17,697 were also minted in 0.999 silver to proof standards and available in individual cases. Three examples of the Eureka Stockade dollar are also known to exist with no mintmarks, these are rare indeed and command a price of more than $2,000 when they very rarely enter the market. Seen above the obverse of the coin depicts the Ian Rank-Broadley portrait of Queen Elizabeth II. The reverse is sculpted by Wojciech Pietranik. It shows the colonial military forces arrayed in front of the famed Eureka Stockade. Flying over the stockade is the symbolic Eureka flag with the stars of the Southern Cross prominent.
Posted by mnemtsas at August 24, 2009 2:03 PM
Subscribe to our Newsletter