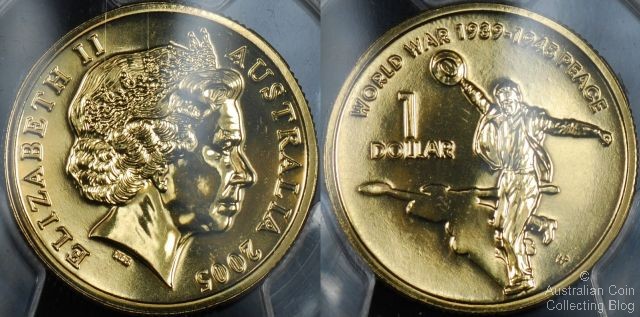 Australia 2005 $1 Dancing Man
On the 14th August 1945 Japan accepted the allied demands for surrender marking the end of World War II. The following day it was announced in Australia sparking feelings of joy and relief from all Australians. VP Day (Victory in the Pacific day) was reported in all the papers and the Australian government gazetted it a public holiday. USA and New Zealand preferred the term VJ Day (Victory over Japan Day) and named it as such.
On VP day August 15th 1945 the celebrations were rife. In the streets of Sydney a man was caught on motion picture film dancing in celebration. This film and the "dancing man" has taken on iconic status in symbolising the victory of WW II.
2005 marked the 60th anniversary of VP day and the RAM released a circulation one dollar coin depicting "Peace" and the image of the iconic dancing man. In a media release the RAM said the gentleman depicted was one Ern Hill, a retired electrician but there is much conjecture over this. There is more evidence that it is in fact Frank McAlary QC. Both these men and others claim to be the famous dancing man caught on camera dancing down Elizabeth Street on that day.
This circulation issue aluminium bronze dollar is the standard 25mm size. The dancing man design on the reverse was sculpted by Wojciech Pietranik and the coin was not issued with any mintmarks. The obverse is the standard Ian Rank-Broadley effigy of Queen Elizabeth II. 31,788,000 of these coins were released into circulation in 2005. Both gold and silver versions were also issued as part of the pure silver/gold proof coin sets of which 629 gold sets were issued (of a potential 650 allocation) and 6,200 silver sets.
Posted by harrisk at August 30, 2009 7:43 PM
Subscribe to our Newsletter