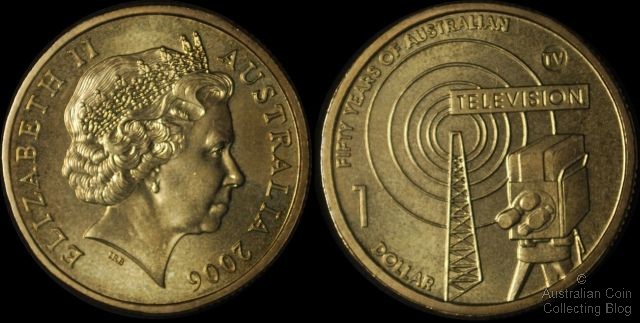 TV Dollar with TV mintmark
The commemorative one dollar coin released by the Royal Australian Mint featuring various mintmarks in 2006 was the 50 years of Australian Television coin. On September 16 1956 Bruce Gyngell first appeared on Australian TV making media history uttering those now famous words "Good evening ladies and gentlemen, Welcome to Television". NSW and Victoria were the first states to watch TV, just in time for the broadcast of the 1956 Melbourne Olympic Games with the other states following on. Of course this was black and white TV as colour didn't appear until March 1975.
With the standard 25mm diameter and aluminium bronze composition this 9g dollar designed by Vladimir Gottwald was not issued for circulation; you won't find one in your change (of course that is unless someone removed theirs from it's protective folder and spent it for $1!). It features the standard Ian Rank-Broadley effigy of Queen Elizabeth II.
This coin was struck with S, B and M mintmarks at corresponding Royal shows in capital cities as well as production (heavy) press examples of each of these. The C mintmark was available as the heavy production press C mm and also could be pressed at the visitors gallery presses at the RAM in Canberra. Also issued in uncirculated aluminium bronze from the RAM was the TV mintmark TV dollar struck on the production presses at the RAM. This was the first issue where the mintmark didn't refer to an origin or capital city.
A silver proof Television dollar was issued in 2006. A general issue with no mintmark and an A mintmark issue was released at the ANDA coin fairs in 2006. There is much speculation over the release of this A mintmark. It was intended to either be an A for Australia mintmark of an A for ANDA mintmark. The A mintmark was to be released at each ANDA coin fair in the country in 2006, thus the idea of it being an A for ANDA mintmark. A mintage of 1500 was to be released at each fair and would give a total mintage of 6000 coins. However McDonald's Guide (Australian Coins and Banknotes 16th ed by Greg McDonlad) states a mintage of only 3,859 coins. Personally I believed there was only the initial 1500 released at the Canberra ANDA show before a problem forced the issue to be abandoned. If anyone has some different information please contact admin@australian-threepence.com and I'd be happy to ammend this information as we strive for accuracy.
Posted by harrisk at October 11, 2009 1:08 PM
Subscribe to our Newsletter