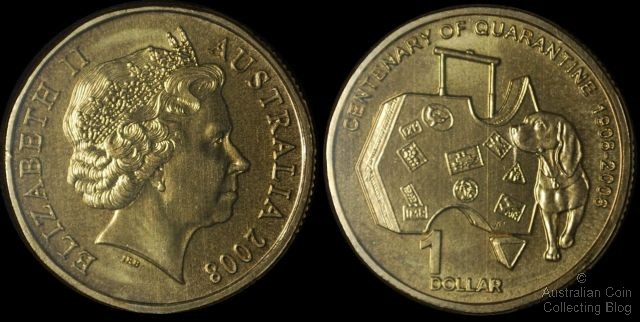 Centenary of Australian Quarantine One Dollar
This comemmorative one dollar marked 100 years since the introduction of the Australian Quarantine Act. The act provides legislation for human, plant and animal activites throughout Australia. It also provides protection at our borders guarding us from potential agricultural disasters caused by the accidental introduction of exotic pests and diseases into the country. It is enormously important for our primary industries to be supported by this act shielding their livelihoods from foreign pests and diseases not found in our country.
This $1 acknowledged the remarkable work, commitment and achievements of thousands of our border security staff who protect us inspecting mail, cargo, air and sea passengers, live animals, imports and exports. Protective services also use Beagles and Labradors in their fight to detect and destroy potential harm before it enters the country. You can find these AQIS detector dogs at airports, mail centres and sea ports.
A Beagle is depicted on the Centenary of Quarantine dollar hovering around luggage shaped as Australia, this design was sculpted by Wojciech Pietranik. It's interesting to note that the stickers on the luggage identify key hazard and protection issues. The reverse states "Centenary of Quarantine 1908-2008 1 Dollar". The obverse features the Ian Rank-Broadley effigy of Queen Elizabeth II. This uncirculated dollar is encapsulated in an informative card and was issued for collectors and not intended to circulate. It is however the standard aluminium bronze 25mm size weighing 9g with edge interrupted reeding. Issue price was $12.95 with a mintage of 24,146 coins.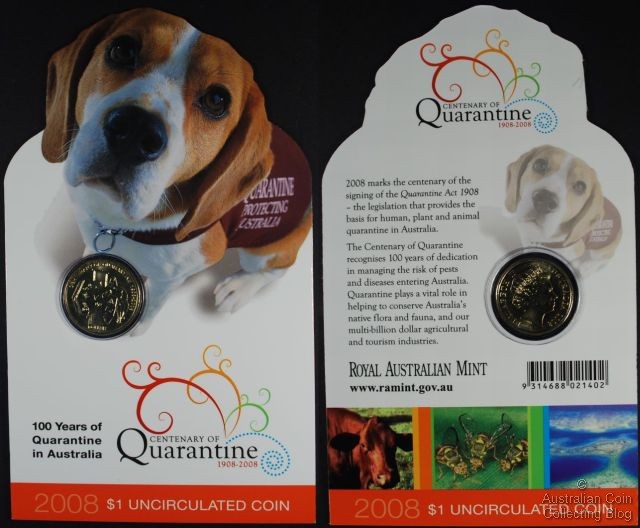 Centenary of Australian Quarantine One Dollar in Card of Issue
Seen below is the Quarantine $1 which was also issued in a joint RAM/Australia Post PNC for $16.95 with a mintage of 21,600.

Centenary of Australian Quarantine One Dollar issued in PNC
Posted by harrisk at October 16, 2009 7:05 PM
Subscribe to our Newsletter