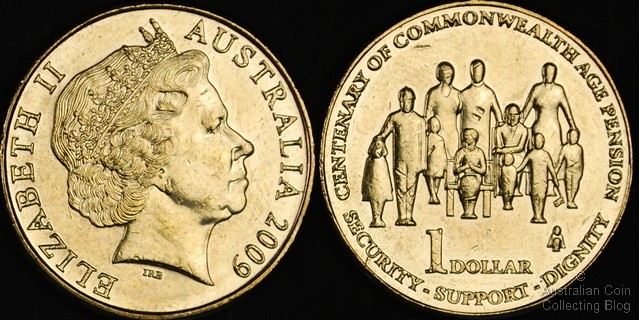 Australia 2009 Centenary of the Aged Pension Dollar
The circulation dollar released for 2009 is the Centenary of the Age Pension coin. You'll soon start to find these in your change. The reverse design is depicted by RAM designer Wojciech Pietranik. It captures a pensioner couple surrounded by all generations from all walks of life coming together in the shape of Australia giving our older Australians support, dignity and security in their retirement for 100 years.
In 1908 the governments' Invalid and Old Aged Pension Act was introduced. This landmark legislation placed Australia at the forefront of social policy reform. It remains a constant and symbolic commitment to the welfare of others. In 1909 the age pension provided 65,500 aged pensioners with 10 shillings a week. It now supports more than 2 million aging Australians.
This aluminium bronze one dollar is the standard 9 gram, 25mm size released into circulation. The reverse legend states "1 Dollar Security Support Dignity Centenary of the Commonwealth Age Pension". The obverse Queen Elizabeth II portrait is the standard Ian Rank-Broadley design. At present the RAM states the mintage will be unlimited but as the annual report is released after the end of the financial year we will have a more definitive mintage number for this release. As well as being released into circulation these coins are available in RAM rolls. 20 one dollar coins wrapped in exclusive Royal Australian mint paper for issue price of $29.95.
Posted by harrisk at October 30, 2009 3:32 PM
Subscribe to our Newsletter