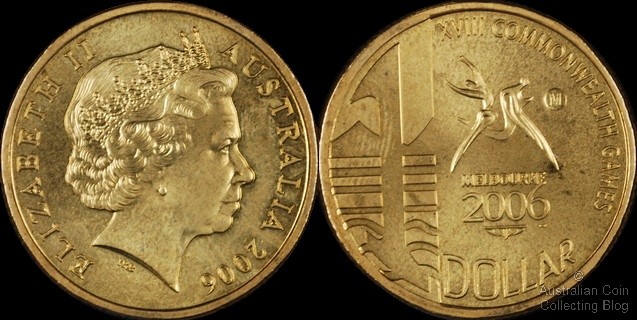 2006 Commonwealth Games One Dollar
2006 saw Melbourne, Australia host the XVIIIth Commonwealth Games in which 71 countries participated in 247 events including aquatics, cycling, gymnastics and shooting. The event was officially opened by her majesty Queen Elizabeth II on 15th March 2006.
These games were the largest sporting event held in Victoria since the 1956 Melbourne Olympic Games and it was a treat for Australians to again have such an event on home soil. Melbourne was awarded the games in 1999 and it took this 7 year period to prepare and build facilities and infrastructure to support the visitor and competitor impact that hosting the Commonwealth games brought to Melbourne and Victoria.

Numerous Royal Australian Mint products were released in many denominations to celebrate this event. One of these releases was a standard 25mm size 9 gram aluminium bronze one dollar coin. This uncirculated dollar coin was not issued into circulation but being of standard size you may well one day find one that someone has spent for a dollar. Issue price in an informative folder was $2.75 with catalogue value well over that now. It proved extremely popular with collectors and overseas visitors as the cheapest coin product available commemorating the games.
The reverse design on this issue was sculpted by Tony Dean. It depicts the symbol of the 2006 Melbourne Commonwealth Games and an M mintmark indicating the games were held in Melbourne. All 58,505 coins were however struck at the Royal Australian Mint in Canberra, not in Melbourne as the mintmark suggests. The obverse features the standard Ian Rank-Broadley effigy of Queen Elizabeth II, who, as head of the commonwealth officially opened the games.
Posted by harrisk at November 27, 2009 10:32 AM
Subscribe to our Newsletter