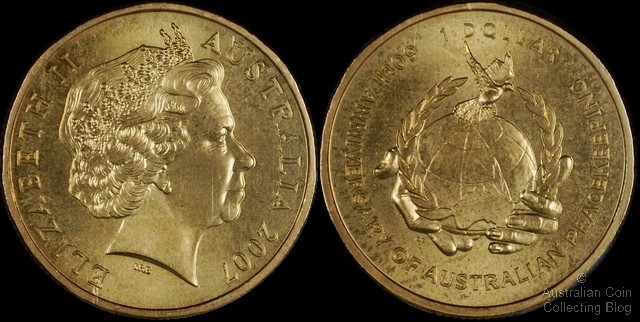 2007 Peacekeeping One Dollar
The 29th May 2008 commemorated the 60th Anniversary of Australia's involvement in peacekeeping operations supporting the United nations. United Nations peacekeeping operations have brought hope to countries riven by conflict. They have saved lives, helped communities, helped societies and helped rebuild nations. Australia has a long and very proud history of supporting United Nations peacekeeping operations.
This standard 25mm size 9 gram aluminium bronze (92% copper, 6% aluminium, 2% Nickel) one dollar coin not issued for circulation commemorates the 60th Anniversary of Australian Peacekeeping. It features the current Ian Rank-Broadley effigy of Queen Elizabeth II. The design sculpted by Caitlan Goodall also features Australian helping hands cradling the globe with an olive branch. A white Dove hovering over completes the symbolism of peace depicted on the coin. 31,028 of these NCLT coins were Issued in a descriptive card for $12.95.
This coin symbolises the courage, professionalism and sacrifices made by Australia's peacekeepers. It's release by the RAM hoped to raise awareness and recognition of this important service.
Posted by harrisk at November 7, 2009 10:29 AM
Subscribe to our Newsletter