We were lucky enough to watch the toolsetters changing over the dies on one of the gallery presses late in the afternoon of New years Eve. The fitters worked on press 2 before the closure of the facility while visitors were still able to press the 2009 coin on press 1.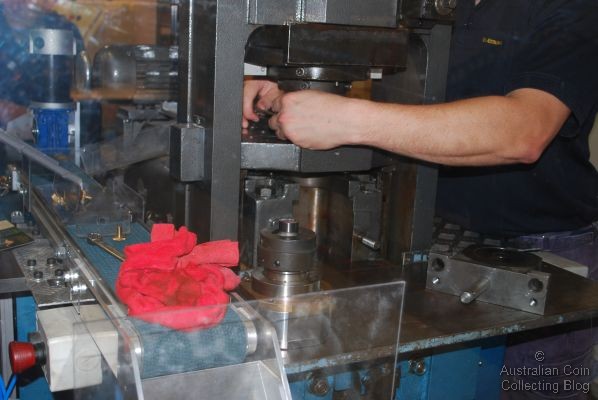 Changing the Dies for the New Year
They needed to change both the reverse and obverse dies for the new 2010 coin with the third collar die remaining untouched.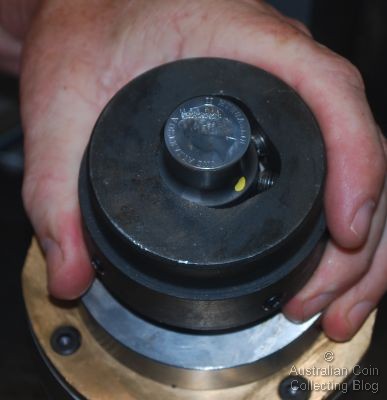 Obverse die for the 2010 Gallery Press 2 $1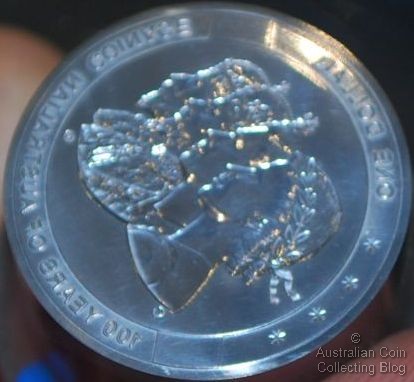 Reverse die for the 2010 Gallery Press 2 $1
The reverse and obverse dies can only be set into the press one way (to prevent upset coin errors) but the collar die angle varies each time it is removed and reset. For the new year, differences in the angle of the collar die can be seen for each of the 2 presses. We can therefore differentiate which press struck each coin creating what some collectors would term a variety. This will be accurate of course until the dies are changed or the collar die is reset and it is entirely unknown how often and when this may happen. It may happen at regular intervals or it may happen because of press breakdown or die failure.
Collar die variations or reeding position differences can be seen in the image below. Of course this is only accurate for coins pressed on 1 January 2010, if the dies have changed or been reset since this time the reeding positions may be different.

Gallery Press 1 (left), Gallery Press 2 (right)
Dollars struck on press 1 (closest the main entry door) have the edge reeding start between the A and the U of Australia on the obverse. Dollars struck on press 2 show the A of Australia begin 1/3rd through the reeding.
Posted by harrisk at January 3, 2010 8:57 AM
Subscribe to our Newsletter