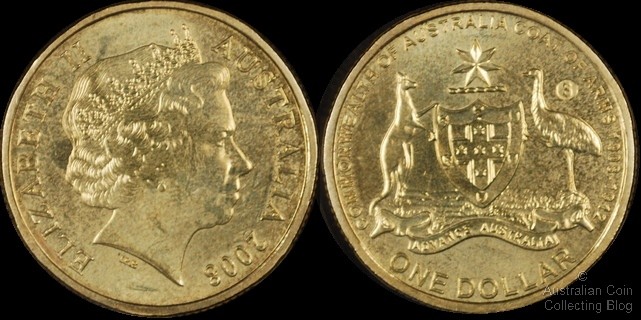 Australia 2008 Centenary of the Australian Coat of Arms Dollar with S Counterstamp
The Australian Coat of Arms is the representative symbol of Australia granted by King Edward VII in 1908. The design has been modified slightly over the years but generally has remained the same. It is used for authentification purposes on official documents such as your passport and is used to identify government property or authority. The most significant change to the COA was in 1912 when the shield displaying the cross of St George was replaced by a version incorporating state emblems. It is interesting to note the kangaroo and the emu that are depicted as our own Australian native animals and the fact that these animals cannot walk backwards is symbolic of the nation moving forward and not backward.
To mark 100 years from when the Coat of Arms was first introduced the Royal Australian Mint released a standard 25mm aluminium bronze 9 gram one dollar coin. This coin was the mintmark coin for 2008 and bears a mintmark, counterstamp or privymark in folders labelled with the type of mark the coin carries. We've written detailed article previously about the differences in these marks and how to identify them when they were first introduced.
The reverse of the coin depicts elements of the original design from 1908. This Coat of Arms is the same as struck on some of our pre-decimal coinage such as the florin and the threepence prior to 1936, the kangaroo and emu supporting the shield on a grassy mound. A seven pointed star is depicted above with "Advance Australia" written in the ribbon device below. The legends read "Commonwealth of Australia Coat of Arms 1908-1912 One dollar". The obverse of this coin features the standard Ian Rank-Broadley effigy of Queen Elizabeth II. Not released for general circulation the coin was released with a C mintmark, S privymark and counterstamp, B privymark and counterstamp, M privymark and counterstamp for $2.75. The counterstamp issues were struck at the various venues on a portable press machine that the RAM took around the country. The C mintmark was the coin struck by visitors on the gallery presses in the Royal Australian Mint building. Take a look at the 2008 Australian dollar mintage table for the numbers issued. This coin was also released with a C mintmark in a silver proof version for $40.
Posted by harrisk at January 25, 2010 11:44 AM
Subscribe to our Newsletter