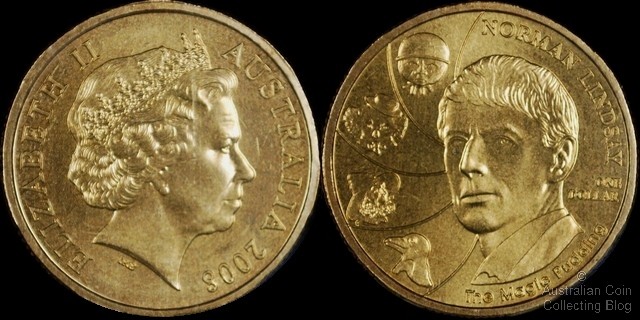 2008 Unc Norman Lindsay
Famous Australian artist Norman Lindsay (1879-1969) was also renowned for his work as a writer of childrens stories. First published in 1918, The Magic Pudding is a classic childrens novel that Lindsay wrote and illustrated. It was adapted for an animated feature film in 2000. The classic story has been reprinted numerous times and was done so again in 2008 to celebrate the 90th anniversary of the book. Following with the humorous side to this book it is divided into 4 "slices" instead of chapters. It follows the magic pudding who, as eaten, reforms to be eaten again as its' owners defend it from the pudding thieves.
The theme for the baby mint and proof sets produced by the Royal Australian Mint in 2007 and 2008 was The Magic Pudding by Norman Lindsay. A fitting theme for a set designed as a gift to commemorate a special newborns birth. The packaging features artwork from the Magic Pudding story by Lindsay himself. The Norman Lindsay one dollar is only featured in the baby mint set, not the proof set.
The reverse depicts a portrait of Lindsay with 4 characters from the story to the left of the portrait. From the top the coin features the Magic Pudding, Bunyip Bluegum the koala, Bill Barnacle the sailor and Sam Sawnoff the penguin. The legends read "Norman Lindsay The Magic Pudding One Dollar" on the reverse. This design was by Vladimir Gottwald but does not bear his initials.
It is a standard size 25mm 9 gram Australian legal tender aluminium bronze one dollar coin but was not released into circulation (thus an NCLT), it is only found in the baby mint (uncirculated) set. The obverse is the standard Ian Rank-Broadley effigy of Queen Elizabeth II. In 2007 33,693 baby mint sets were produced and in 2008 46,504 sets were sold which included this exclusive coin design.
Posted by harrisk at February 20, 2010 3:32 PM
Subscribe to our Newsletter