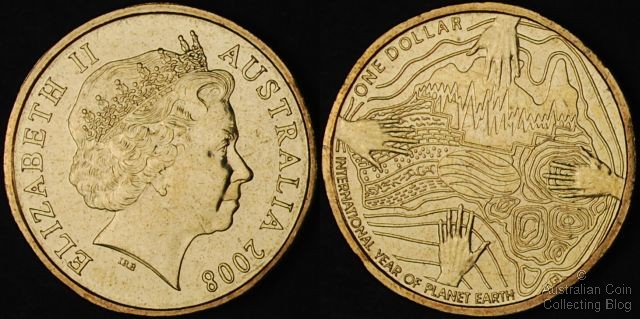 2008 Unc International Year of Planet Earth
The United Nations declared 2008 International Year of Planet Earth adopting the theme "earth sciences for society". Geological hazards are a key issue for the United Nations and promoting this year was the biggest international effort to promote this field of scientific endeavour.
UNESCO (United Nations Educational Scientific and Cultural Organisation) hoped to raise 20 million dollars over the 3 year period 2007-2009 to fund research and outreach activities. Objectives of the year included



discovering new natural resources and make them available in a sustainable manner


reduce risks for society caused by natural and human-induced hazards


increase interest in earth science encouraging young people to study this at university


improved understanding of the evolution of life


understanding the earth from crust to core.


The reverse of this one dollar coin was designed by Vladimir Gottwald. His designs were inspired by the program, highlighting our need to take responsibility for our planet and issues of hazard minimisation and sustainable development that are of significance to all Australians. The reverse of the IYPE $1 depicts a map of Australia with human hands showing the change we effect on the environments.
This aluminium bronze dollar is the standard 25mm 9 gram size for a circulation one dollar but was not released into circulation, thus is termed a NCLT release. It features the standard Ian Rank-Broadley effigy of Queen Elizabeth II on the obverse. The only way to purchase one of these coins in uncirculated condition is in a mint year set for 2008 or a 2 coin uncirculated set released by the Royal Australian Mint. A proof version can be found in the 2008 proof year set. It was also issued in sterling silver in the 2008 fine silver year set for 2008. For mintages see the 2008 issues and mintages table.
Posted by harrisk at February 13, 2010 2:00 PM
Subscribe to our Newsletter