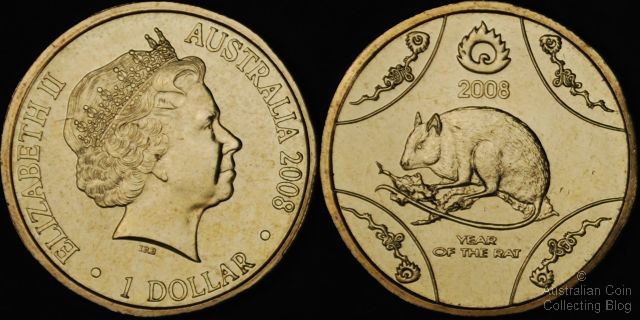 2008 Unc Year of the Rat
In 2008 the Royal Australian Mint continued with the second release in an ongoing series of NCLT (non-circulating legal tender) one dollar coins depicting each lunar year and their representative animals. Intended as a collectors coin this 2008 $1 marks the birth of a loved one or a birthday gift for those born in the year of the Brown Earth Rat which begins on February 4th 2008, the first day of the solar month in thew Chinese Lunar calendar. Those born in 1996, 1984, 1972, 1960, 1948, 1936 or 1924 were also born into the year of the rat. The rat is the first in a cycle of 12 astrological animals. Virtues of those born into the sign of the rat are said to be charming, sensitive, imaginative and generous to the ones they love. They enjoy being leaders so are often successful in life and are said to have the gift of insight and clairvoyance. Those born into the year of the rat are also said to have a tendency to be quick tempered, over-critical perfectionists.
The Year of the Rat one dollar reverse was designed by Vladimir Gottwald but does not feature Gottwalds signature initials in the design. The reverse features a rat with authentic chinese symbols all in a symetrical design on the reverse. The coin is issued in a protective capsule housed in an informative card. This card features a red and gold design, the traditional colours of good fortune in Chinese culture. The coin reads "2008 Year of the Rat" on the reverse and, different to other standard dollar issues, states the denomination "1 Dollar" on the obverse below the portrait. It is the standard 25mm size, 9 gram, aluminium bronze one dollar coin with the Ian Rank-Broadley effigy of Queen Elizabeth II.
This year of the rat aluminium bronze one dollar was issued in uncirculated condition for $12.95 with a mintage of 20,359. It was also issued in silver proof 11.66 gram 25mm for $40 with a mintage of 5,250. The design was also issued also in a (1/10oz 17.53mm) $10 gold proof coin for $175 with a capped mintage of 2,500.
Posted by harrisk at February 10, 2010 7:02 AM
Subscribe to our Newsletter