It's the evening of Sunday 4th of July 2010 and the Melbourne ANDA Coin and Banknote Show for the year concluded at 5pm this afternoon. This year, like last year, the show was held at the Caulfield Racecourse in the members area of the main racecourse grandstand. Starting at 10AM on Saturday we arrived just a few minutes after official opening time and the queue to enter was quite long and it took us at least 10 minutes to enter. Once in, the show appeared to be layed out like last year (in fact some dealers were in the same location). It was quite difficult to actually get a seat at any dealers table because of the crowds of people looking for bargains. Actually the both of us were scratching our heads a little about the early crowd because there wasn't keenly sought limited issue for this show other than the proof 'M' mintmark 100 Years of Australian Coinage silver dollar released by the RAM. However, the corresponding issues at the other ANDA shows this year haven't exactly been super popular so we're pretty sure that wasn't why people were there so early.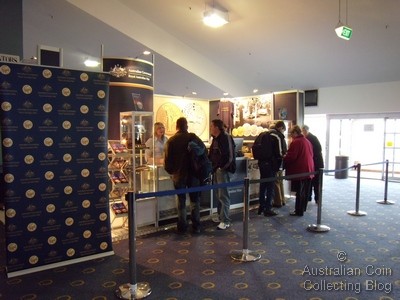 The Royal Australian Mint Stand
After a couple of hours catching up with numismatic friends things settled down and we managed to start looking through some dealers stock books and hunting for that elusive bargain or the coin to fill a hole in a particular series we collect. The usual dealers were present at the show, we noted Peter Strich, Edlins, Tony Byrne, Klaus Ford, Prospect Stamps and Coins, Coinsearch.com, The Rare Coin Co., Downies, International Numismatics, VP Coins, and Steele Waterman Coins. Additionally there were a couple of dedicated stamp dealers there and a specialised banknote dealer. Apologies to anyone we've missed out of this list.
The Caulfield venue is a good one, with a snack bar where you can get snacks, drinks, and lunch, it's a little expensive but we found the food to of reasonable quality. There was plenty of space and tables to sit around to just take a break and have a coffee.
There's also enough room in the venue for a small audience to be seated and listen to free seminars which ANDA put on 3 times a day on various topics. Prominent people in the numismatic industry spoke about investing in bullion, gold, trading coins for wealth by Andrew Crellin and investing in rare coins and banknotes by Rob Jackman. We missed the talks (just too much to do and so little time) but given that you could listen in for free if you had a show entry ticket they seemed to be pretty good value (like most free things are!).
We took the time on Saturday to catch up with dealers that we knew and to talk coins, business, and generally have a gossip. We had also pre-arranged some meetings with collector friends including some internet forum members who we finally managed to meet face to face. It was great to be able to spend an hour around a table with fellow enthusiasts show off each others coins, discussing the merits of the coins, wondering how a particular error coin was made, and generally having a great time. Numismatics can be a lonely hobby and this opportunity was a great delight to the two authors and something we'll be trying to do again very soon.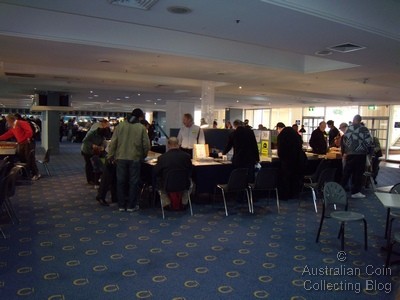 A view of some crowded dealers' tables on day 1 of the show
Overall we felt that for this show the dealers seemed particularly friendly and happy to show us their stock and open up their cabinets for us to view closely which isn't always the case if they feel security might be a problem. But with ANDA hired security prowling the aisles and the tables we weren't aware of any problems arising even if the sign at the door stated anyone could be ejected at any time if their behaviour became unruly.
A particular delight was meeting again with Ian McConnelly, an authority on varieties and error coins who writes regularly for the Australian Coin and Banknote Magazine and has just released the second edition of the Renniks published book "Australian Pre-decimal Coin Varieties" which he kindly autographed for us. Whilst we were at it we got Steele Waterman of Steele Waterman Coins and president of ANDA to autograph the article he wrote for the current CAB magazine (July 2010 issue) about his experiences in the Victoria Police with stories about counterfeit banknotes. And on a roll we bought a copy of Andrew Crellin's "The Colonial Coinage of Australia" and got him to sign that too. We certainly were a pair of signature chasers this weekend!
Returning for the second day on Sunday it was a much quieter event. With still plenty of tables to rummage through and dealers to talk to we're not sure where the last 6 hours of the show actually went. We had our heads in albums, cabinets and boxes of 2x2's. About an hour before the end of the show those dealers who had to travel afar packed up their goodies and headed off. We were done by then, totally coined out.
As always it was a great thrill to attend an ANDA Coin and Banknote show and this one was particularly enjoyable because of the friendly dealers and fellow hobbyists who we managed to catch up with. We'll be making an effort to attend this show again next year and we hop we have just as much fun.
Posted by mnemtsas at July 4, 2010 10:03 PM
Subscribe to our Newsletter