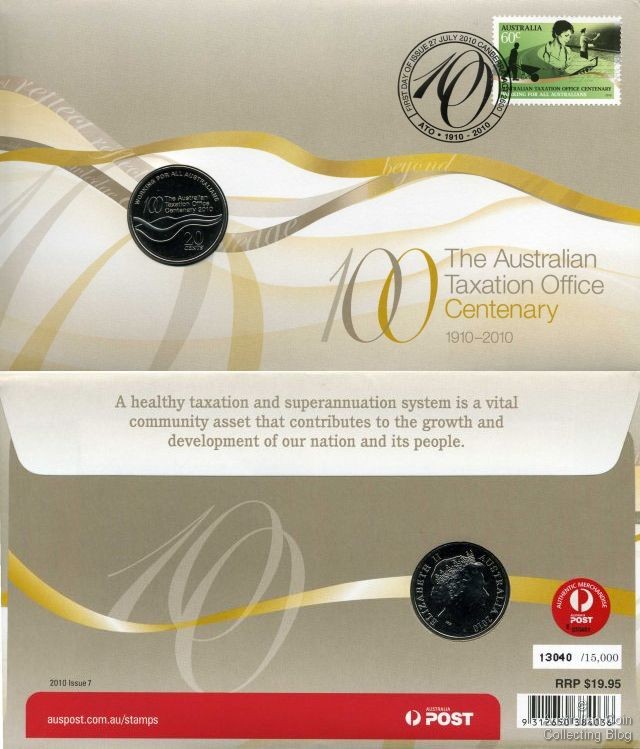 2010 20c PNC Centenary of the Australian Tax Office
What we now know as the ATO the Australian Tax Office was formed in 1910 beginning as the Land and Tax Office in the Commonwealth Treasury. This department was initially established to fund invalid and old age pensions. 100 years later we reflect on it's achievements with a comemmorative 20c issued by the Royal Australian Mint. The centenary officially occurs on November 11th but with respect to Remembrance Day celebrations will take place on November 12th 2010. A program of events continues throughout 2010 including a book release and also the recognition of Women in the ATO on International Women's Day in March 2010.
Media originally reported approximately 5 million 20c piece* will be released into circulation so expect to find one of these in your change soon. The reverse design "Working for all Australians 100 The Australian Tax Office Centenary 2010 20 cents" was designed in collaboration with the Australian Tax Office and the Royal Australian Mint designers. The obverse is the standard Ian Rank-Broadley portrait of Queen Elizabeth II.
The PNC released by Australia Post is just one release in a series of stamps and first day covers. It features one 60c stamp postmarked in Canberra 2600 on the date of issue July 27th 2010. This PNC is limited to 15,000 and each cover is uniquely numbered. Released for $19.95 this issue will be highly sought.
* actual circulation mintage 11,575,000.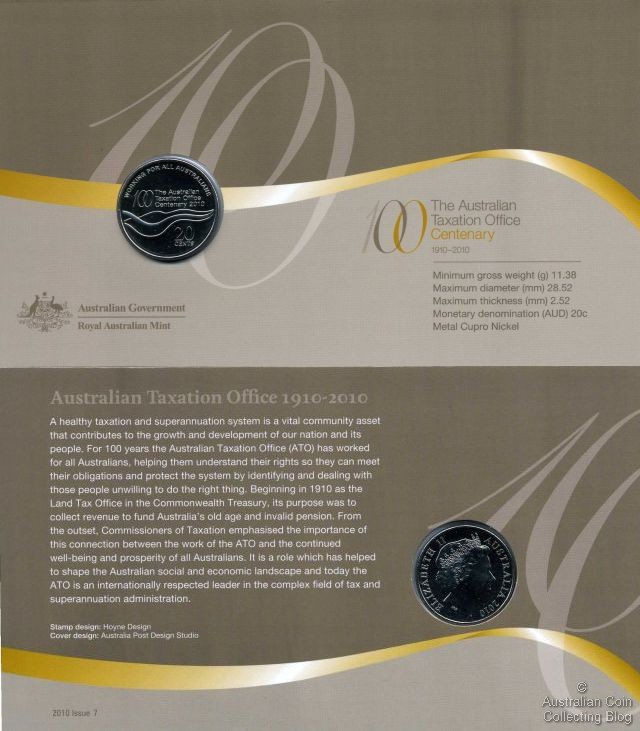 2010 20c PNC Centenary of the Australian Tax Office -insert
Posted by harrisk at August 4, 2010 12:54 PM
Subscribe to our Newsletter