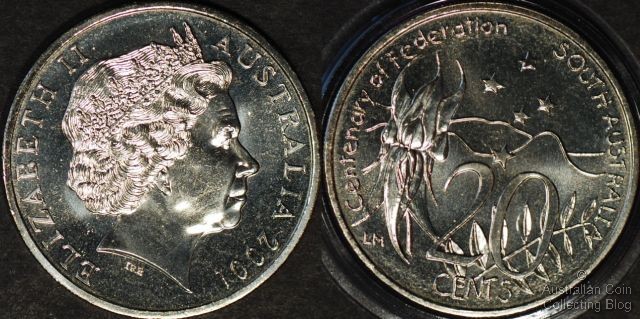 2001 Centenary of Federation 20c South Australia
Seen above is the 2001 20 cent coin for South Australia in the State Series commemorating the Centenary of Federation and is found in circulation. Just one of 9 twenty cent coins in the State Series depicting each Australian State and Territory. A series of $1, 50c and 20c designs were released by the Royal Australian Mint commemorating 100 years since the Federation of Australia.
The reverse design is by Year 9 student Lisa Murphy of Yankalilla Area School who was the winner of the Royal Australian Mint's student design competition for her state. This was a national competition for primary and secondary school students to design a coin to represent their state or territory, the coin representing the vision and talent of Australia's youth. Lisa uses the State's floral emblem the Sturt's Desert Pea, a depiction of the Flinders Ranges and the Southern Cross. Her initial's LM have also been included on the design. The obverse is the standard Ian Rank-Broadley effigy of Queen Elizabeth II.
The coin weighs 11.30 grams and is 28.52mm in diameter. It is made form Cupro Nickel, 75% copper and 25% Nickel.
2,400,000 of these coins were issued into circulation but many of these have been put aside by collectors so it's not that common to find one in your change.
4,782 uncirculated coins were issued in 3 coin sets
12,260 uncirculated coins were issued to complete 21,040 20 coin sets
3,625 proof coins were issued in 3 coin sets
10,179 proof coins were issued in complete 13,000 20 coin sets.

Posted by harrisk at November 25, 2010 11:43 AM
Subscribe to our Newsletter