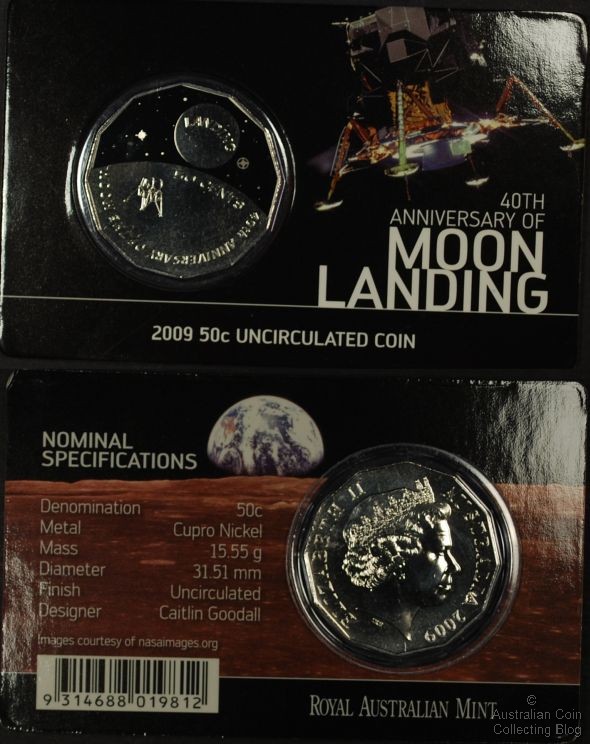 Australia 2009 40th Anniversary of the Moon Landing 50c -not for circulation
2009 was the 40th anniversary of the first manned mission to the Moon and to celebrate this the Royal Australian Mint issued a NCLT 50c for collectors. It was July 21st 1969 when the world sat glued to their television sets watching vision streamed from the Parkes radio telescope. 600 million viewers watched and listened to Neil Armstrong and Buzz Aldrin taking their first steps on the moon thanks to the Apollo 11 space mission. This dodecagonal (12 sided) 31.51mm copper (75%) nickel (25%) coin weighs in at 15.55 grams with a plain edge.
The reverse depicts the Lunar Module on the moon with the Earth and stars above. It is pad printed with black paint to depict space giving the perspective of opposing skyscapes as though you are looking out the cockpit window of the orbiting Command Module. It was designed by RAM designer Caitlin Goodall. The standard obverse features the Ian Rank-Broadley portrait of Queen Elizabeth II.
43,149 of these uncirculated coins were issued by the Royal Australian Mint
Posted by harrisk at November 10, 2010 12:39 PM
Subscribe to our Newsletter