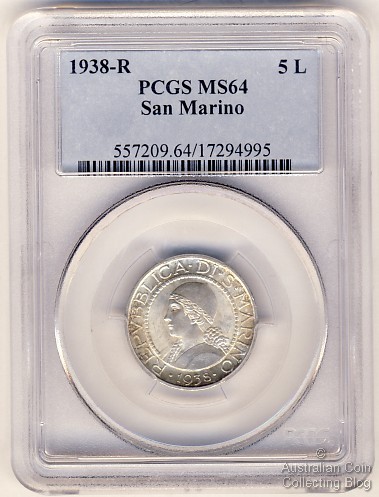 New PCGS Holder with Visible Coin Edge
If you've been collecting coins for a little while then you'll be well aware that there's a third, and much neglected side of each coin, the edge. Those glory hounds, the obverse and reverse of a coin garner almost all the attention when a coin is examined closely while the edge is sadly ignored. This is despite coin edges containing interesting design features like continuous reeding, interrupted reeding, incuse lettering, relief lettering, and decorative anti clipping designs such as those found on Spanish Colonial 8 reales. This neglected third side of a coin has been pushed to the background even further with the advent of third party grading and slabbing where often the edge is obscured totally by the holder.
The Numismatic Guarantee Corporation (NGC) came to the party a few years ago with their EDGEVIEW® holder, with each coin held in place by three white plastic prongs. These holders don't have a lot good said about them due to the amount of coin that they obscure, especially on smaller coins. In some interesting news it looks like PCGS is reviving their pronged edge visible holder (which you can see an image of above). This holder was first seen in 2007 and apparently hasn't made a re-appearance since then, that is until the recent opening of the PCGS grading office in Paris, France. It appears that some coins graded in this office in the last month or two are appearing in these holders. The retaining method these holders utilise is a similar three prong arrangement to the NGC holder but PCGS have used a largely colourless polymer that is similar to the soft grommet they use in their regular holders to retain the coin. It certainly appears to be a more attractive holder than the NGC item.
We'll try to get one of these holders for closer examination and post up our findings as they become available.
Posted by mnemtsas at November 4, 2010 3:54 PM
Subscribe to our Newsletter