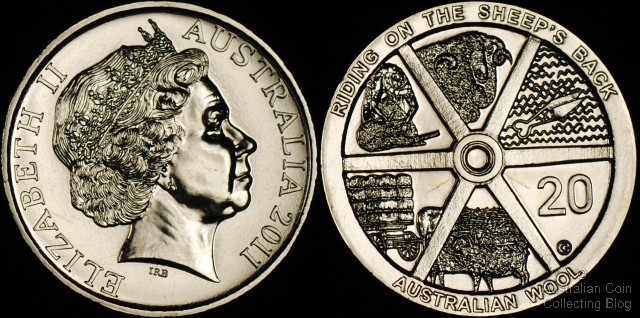 2011 Australian Wool 20c
Australian society "Riding on the Sheep's Back" is the theme for the 2011 2 coin sets released by the Royal Australian Mint. One of the most successful of Australia's primary industries is celebrated in this commemorative coin release which also includes a specially designed one dollar coin. Our primary wool industry has been supporting our economy since the first wool exports 100 years ago in 1911. China is now the largest processor of Australian Wool.
The 20c is designed by Vladimir Gottwald and captures the importance of wool in our economic and cultural development through the last century. It depicts a wagon wheel illustrated with images of hand shearing, sheep and bales on a wagon. The legend reads "Riding on the Sheep's Back Australian Wool 20". It also features a "G", the designers initials.
The obverse or heads side of the coin is the standard design of Queen Elizabeth II by Ian Rank-Broadley. The Australian 20c is 28.52mm, weighs 11.31grams and is composed of 75% copper and 25% nickel (cupro-nickel).
This 20c was released in a 2 coin set with the Wool $1, these sets the only way to obtain these issues. Mintage is capped at 40,000 uncirculated sets (issue price $15) and 25,000 proof sets (issue price $45).
Posted by harrisk at December 10, 2010 9:59 AM
Subscribe to our Newsletter