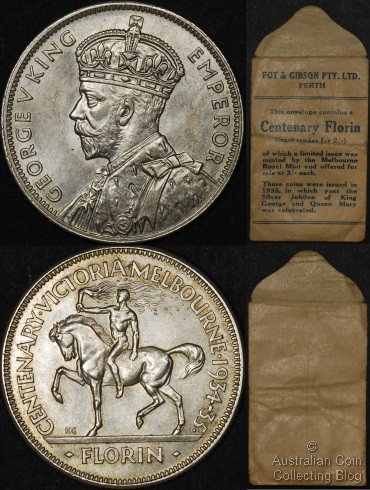 A 1934-35 Centennial Florin and Perth Foy Bag
Just last weekend an Australian company took out a full page advertisement in the major Sunday newspaper in the city the authors live in. The company was looking to purchase gold, silver, coins, medals, and old watches and was having 'valuation' sessions at many locations around the city over a period of several days. It so happened that one of these locations wasn't far from where the authors live so we decided to pick a couple of items from our collections to take along and get valued. We decided on a raw choice unc 1934-35 Centennial Florin and a scarce Perth Foy Bag, you can see these in the image above.
Gathering up these couple of items (and a horde of children) we headed down to the motel where the company was holding their session. The valuations were being conducted in a small conference room with 40 or so seats and two buyers at desks at the front of the room. Five people were in front of us waiting to be seen and it was interesting listening to the valuers as they talked to these people. They were clearly knowledgeable, and quite friendly. They were also selective in their purchasing, by no means did they buy everything they were shown, in fact, they bought from just 2 of the 5 people they saw while we were watching. The others were sent off with advice about cashing in notes for face value at the bank or giving coins to grandchildren, this included one lady who had, rather shockingly, cleaned her copper coins with Silvo! Interestingly both valuers consulted the Australian coin value bible, Macca's about a couple of items.
Our turn came and the valuer looked at both our items for a grand total of about 30 seconds. The price offered was $260 for the coin and $20 for the Perth Foy Bag. We said our thanks and left. We're a bit hesitant to offer any particular comment on the worth of these "valuations" but a quick look at current CV for the coin suggests a market value of $750 in UNC and $900 for the bag in VF. Clearly you will almost never be offered these values when selling to a dealer, but the disparity between the offer prices we received and the catalogue values suggests you would do very well if you shopped around before deciding to part with your inherited coin collection.
Posted by mnemtsas at January 25, 2011 11:24 AM
Subscribe to our Newsletter