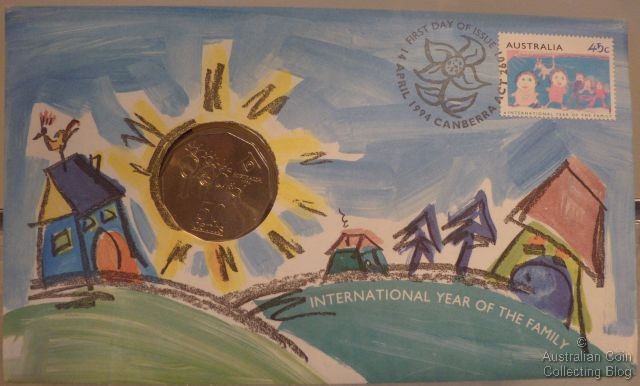 1994 Year of the Family PNC
1994 was proclaimed International Year of the family by the United Nations and the Royal Australian Mint released a commemorative 50c into circulation for the event. More information about this coin can be found in the 1994 International Year of the Family 50c entry.
This coin as well as being issued into circulation was the very first coin to be featured in a PNC released by Australia Post. This was the beginning of many coin and stamp covers released over the years by the Australian postal giant.
There are 2 varieties of this coin and the differences are in the spacing of the date on the coin obverse. Narrow date and wide date variations exist and the narrow date type is the rarer coin type found in the PNC.
148,393 PNC's were issued jointly with the Royal Australian Mint and Australia Post on April 14th 1994 for $3.95.
Posted by harrisk at March 20, 2011 1:32 PM
Subscribe to our Newsletter