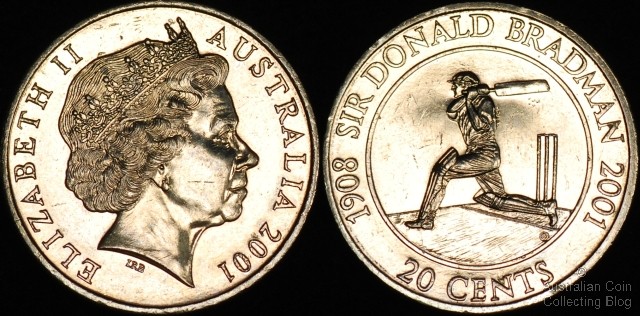 2001 Circulation 20c
The Sir Donald Bradman tribute coin (seen above) was released in 2001 with 10,000,000 coins being minted and issued into circulation. The Don passed away aged 92 in February 2001. The Bradman Commemorative Coin Program of NCLT collector coins was announced April 2nd and then a subsequent currency determination dated April 4th passed in parliament allowed this coin to be struck for circulation.
This 20c coin is quite scarce to find in your change with the expectation that the majority of the circulating coins have been hoarded by the many cricketing fans. Sir Donald George Bradman, the Australian sporting legend in 52 Test matches from 1928 to 1948 scored 6,996 runs at an average of 99.94, a career record unlikely ever to be bettered. This 20c commemorative coin is a fitting tribute to his career achievements.

The release of this coin appears to contradict the circulating coin with a commemorative design policy posted on the RAM website.

"In general, circulating coins will not feature individuals whether living or deceased other than Her Majesty Queen Elizabeth II and other members of the British Royal Family. In the rare circumstances that a commemorative circulating coin design does feature the image of an individual, the coin would mark the anniversary of the birth or significant historic event in the life of that person. Coins will not commemorate the death of an individual."
The Royal Australian Mint and the Bradman Foundation insist though that this release celebrates his life and sporting achievements rather than his passing. The reverse by Royal Australian Mint sculptor Vladimir Gottwald is his own depiction of Sir Donald batting (his classic cover drive) in front of a wicket with the inscription '1908 SIR DONALD BRADMAN 2001' and a stylised 'G', the designers initial. The obverse of the coin features the Ian Rank-Broadley effigy of the Queen.
Finding this coin in your change or from a hoard in a piggy bank might be your only chance to secure one of these coins. They were not issued in any sets or genuine mint rolls.

Posted by harrisk at April 5, 2011 4:50 PM
Subscribe to our Newsletter