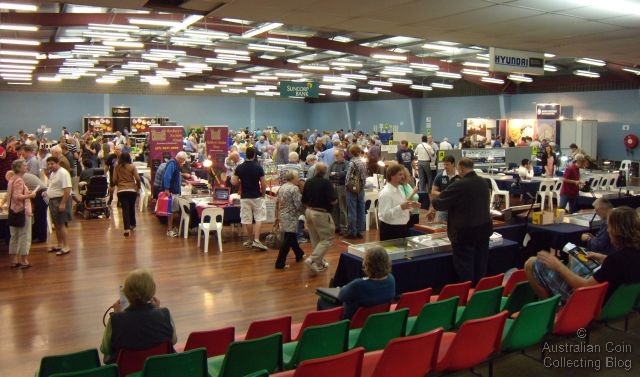 2011 Brisbane ANDA Show
The Brisbane ANDA Coin and Banknote Show was held last weekend, Saturday 21st and Sunday 22nd May 2011. The venue was the Brisbane Table Tennis Centre which is a spacious building with lots of good lighting for viewing. Parking was an issue for those who had driven or hired a car as the centre is surrounded by sporting fields. Weekend events and markets made the area exceptionally busy and parking spaces hard to come by. Friendly security staff greeted us at the door as we purchased our show tickets. The same staff were called into action during the show as we heard of a couple of items being stolen.
The Royal Australian Mint was in attendance with their portable press. There was a high demand for the counterstamped B Shilling Ram Dollar on Saturday morning but it really struggled for business on Saturday afternoon and most of Sunday. Also available was another *exclusive show product, the Brisbane Story Bridge (Capital Bridges series) frosted unc dollar, we don't collect such things so we cannot comment too much on it. There were (about) 5 rows of dealers with many of the friendly faces we've seen before and the Perth Mint stand was at the far end of the centre. Many dealers were happy and friendly enough to let us sit and go through their stock and we've added a few nice coins to our collections. We're particualrly excited about some decimal changeover medallions that we found with one in briliant mint red, but we might be the only people who care!
We managed to spend money with nearly all the dealers attending with a few exceptions. One in particular had silver coins that were all lovely blast white in appearance. Strangely enough they were also selling bottles of silver dip! To mention one dealer whom we think stood out as generally friendly, keen and all round good guy was Vic Power from VP Coins. He had a lovely variety of stock, well housed and his sales team was happy to show us and then offer us a good deal on our purchases. They also had a special show token for those who spent money at their stand. After our attendance at many shows in the last few years a lot of dealers know our faces and were happy to show us their wares and partake in some coin chat. The odd dealer is still of the opinion that we don't need to look at their material before we purchase it. Seems rather a strange attitude, to not want to let people look at your coins at a coin show!
The usual dealers attended the show, notably Waterman's Coins, Klaus Ford, Sterling and Currency, Colonial Coins, Universal Coin Co, Downies, IAG, Rare Coin Co, Monetarium Adelaide, Coinsearch, Eccles just to name a few. There were a few missing at this show Edlins, JPW and International Numis not attending the fair. Renniks had a stand also.
The Queensland Coin Clubs were in attendance with member displays hoping for a vote from show attendees, a friendly bunch are those folk. These included the Queensland branch of the Australian Numismatic Society, the Queensland Numismatic Society and the Redcliffe Coin and Phonecard Club. John Mulhall, editor of Australasian Coin and Banknote Magazine was also drumming up interest for magazine subscriptions and is always a friendly face to see. Auction viewing for the upcoming IAG auction was available also. Some stamp dealers could also be found. Usually the Saturday night of the show is the regular ANDA member meeting with this one electing a new president to take over from Steele Waterman who has now finished up his 2 year run. Andrew Crellin of Sterling and Currency has now taken over the reigns, a job not unfamiliar to him.
We had a whirlwind visit to a not-so-sunny Queensland flying in at 9am on Saturday morning and back out at 9pm on Sunday night but overall an enjoyable show for us.
The Purple Penny has B Counterstamp Shilling Ram one dollars available on their website, click on the image to see Guy, the RAM technician who struck the majority of the B counterstamps!
*exclusive? Advertised as exclusively available at the show but is available via the online RAM shop and selected coin dealers.
Posted by harrisk at May 23, 2011 5:06 PM
Subscribe to our Newsletter