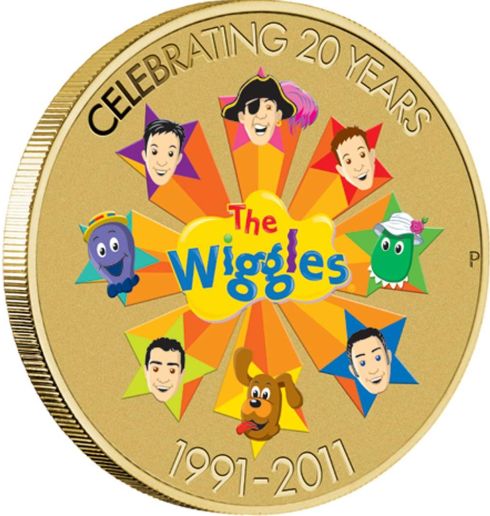 The Perth Mint Wiggles $1 (one of four coins) (image courtesy www.perthmint.com.au)
The Perth Mint presents this 4 coin uncirculated one dollar coin set celebrating 20 years of The Wiggles, the ever popular singing and dancing childrens entertainers. The colourised reverse designs depict Anthony Field, Jeff Fatt, Murray Cook, Sam Moran and also the colourful characters Dorothy the Dinosaur, Wags the Dog, Henry the Octopus and Captain Feathersword.
These four legal tender coins are of the one dollar denomination and feature the Ian Rank-Broadley portrait of Queen Elizabeth II on the obverse and the Perth Mints P mintmark on the reverse. They are not however the standard circulation size, significantly larger at 39.34mm. They are the same composition of aluminium bronze. Housed in specially guitar-shaped packaging each coin can be purchased separately ($15.95 each) or in a four coin set ($59.95) in a brightly illustrated shipper with a big red handle!
There is no mintage numbers available from the Perth Mint at this time, they will be minted to collector demand.

Posted by harrisk at May 4, 2011 2:51 PM
Subscribe to our Newsletter