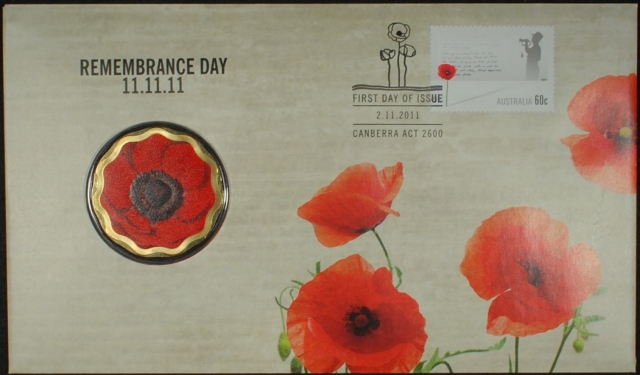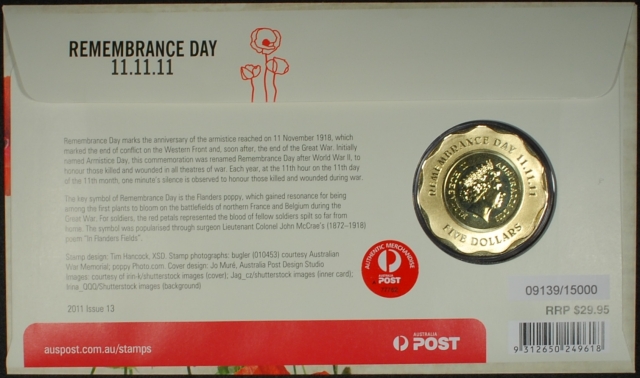 2011 Uncirculated Remembrance PNC with Poppy $5
The Flanders Poppy was among the first plants to bloom on the battlefields of Northern France and Belgium after the devastating loss of life in World War 1. The poppys' vivid red colour becoming symbolic of this said to have come about from the blood of comrades soaked into the ground. Initially Armistice Day, the agreed ending of hostilities on November 11 1918 it was renamed Remembrance Day after WWII and honours those killed and wounded as we pause for a minutes' silence at 11am on this day each year.
Commemorating 11.11.11 a $5 coin was released by the Royal Australian Mint. The reverse depicts a pad printed red poppy flower with the shape of the coin following the petals rounded shape. This coin was struck on a scalloped hendecagonal shaped blank, a round edged 11 sided planchet! The reverse design is by Aaron Baggio. The obverse depicts a central portrait of Queen Elizabeth II by Ian Rank-Broadley with "Remembrance Day 11.11.11 Five Dollars" around the legends. Struck onto a 38.74mm 20gram planchet made from Aluminium Zinc and Bronze it has a frosted uncirculated finish.
It was issued by the RAM in a collector card and jointly with Australia Post in this PNC shown front (above) and back (below). This PNC issue shown is limited to 15,000 and each is numbered on the back with a rrp (issue price) of $29.95. The PNC also features a 60c Remembrance Day stamp and is cancelled on the first day of issue 2.11.2011.
Australia Post also issued a limited edition of 1,111 PNC's with a red foil postmark for $39.95 where customers had to place an order over the phone from 12pm on Wednesday 30 November. The phone lines rang hot with extensive delays or engaged signal received by consumers, ourselves waiting 40 minutes on Thursday afternoon to secure one of these. By Friday afternoon an automated message advised that the limited PNC was now sold out.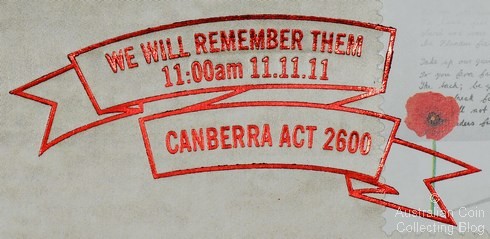 Red Foil postmark on the special release limited to 1,111 issued.
Posted by harrisk at December 6, 2011 1:07 PM
Subscribe to our Newsletter