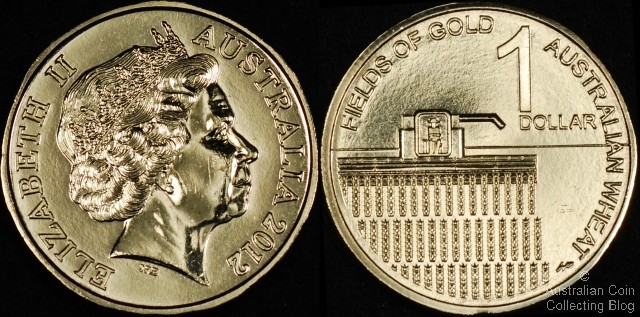 2012 Uncirculated $1 from 2 Coin Set
Titled "Fields of Gold Australian Wheat" this one dollar is part of a 2012 2 coin uncirculated set issued with a commemorative 20c piece. The design depicts a farmer in his (or her) Akubra hat driving their combine harvester harvesing their wheat crop. You can even see a tiny steering wheel and gear shifts in the comfortable air conditioned cab -yes even farmers get home comforts out in the paddock! Rows of wheat fill the bottom (left) half of the design with the designers initials (WP) for Wojciech Pietranik to the right.
In 2011 the Royal Australian Mint gave recognition to Australian Wool and for 2012 this set recognises what an important role Australian Wheat has had in the agricultural industry helping from settlement years growing Australia's self sufficiency where we now export wheat to over 40 countries. It is the staple grain which is used as flour to make breads, as bran for breakfast cereals, a forage crop for livestock and is even used in the fermentation process of beer. It is the third most produced cereal in the world.
The obverse of the coin is designed by Ian Rank-Broadley and features the standard effigy of Queen Elizabeth II seen on legal tender currency. This dollar is the standard 25mm size, weighs 9 grams and is made from aluminium bronze. It has interrupted edge milling. This set has a capped mintage of 40,000.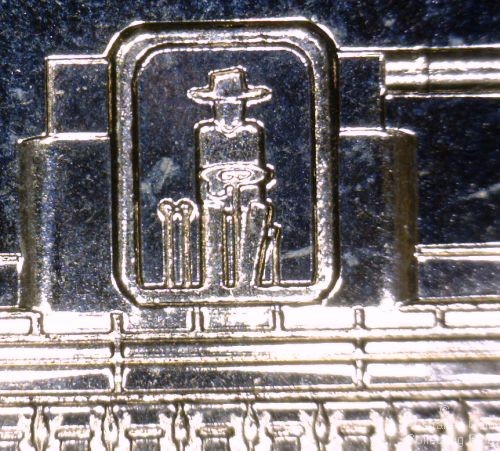 Closeup of the Farmer!
Posted by harrisk at December 27, 2011 12:43 PM
Subscribe to our Newsletter