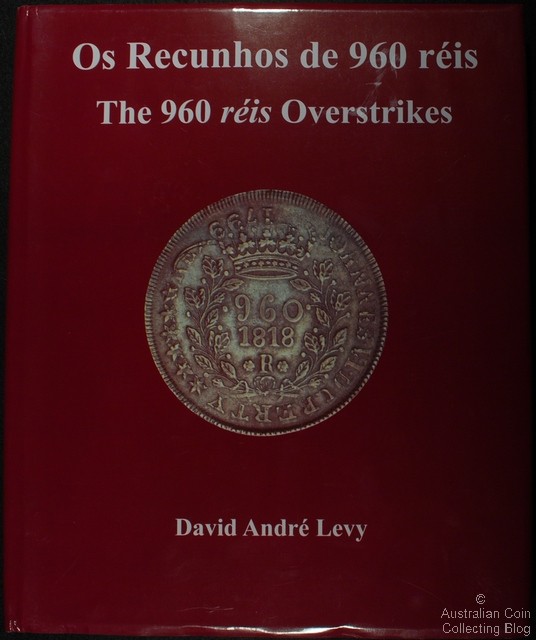 The 960 réis Overstrikes by David André Levy
Above you can see the cover of "Os Recunhos de 960 réis" or "The 960 réis Overstrikes" by David André Levy. David is a 34 year old Brazilian with a passion for collecting the uniquely Brazilian coin, the 960R overstrike. These coins were struck in Brazil at the behest of the Portuguese royal family in exile from 1809 through to about 1830. They were unique in that almost the entire coinage was struck over existing Spanish colonial 8 reale (Spanish dollar) sized coins. Millions of the 960R coins were struck in the 20 years of manufacture and the variation of host coin types has lead to very rare combinations of host coin and 960R year and mint.
David's book aims to be both a catalog of the 960R and a historical record of Brazil during the time it was made. It is now available in the second edition, with the first being published in 2002 and the second edition (seen above) available in 2009. Both are very limited editions (just 500 or so copies) and required reading for anyone who is interested in the 960R series. The second edition of the book is still available for sale on Ebay by the author himself.
"The 960 reis Overstrikes" comprises 13 chapters with each focussing on a different host coin country of origin. As you'd expect the biggest chapter examines the host coins of Mexico with other Spanish colonial countries such as Peru and Bolivia prominent. Other countries that commonly supplied the host coins for the 960R are Guatemala and Chile. One particularly interesting chapter is entitled "Rare Coins" and looks at very scarce host coins such has Bank Dollars from Great Britain, English crowns of William III, and coins struck of over United States silver dollars.
The content of the book is well laid out, and interestingly, is bi-lingual, with the left column of each page in Portuguese and the right in English. Easily understood tables describe the mintages of rarer issues and each chapter is concluded with a price guide for various 960R dates and mints along with host coins. Chapters are generously illustrated with black and white photographs of coins and there are hundreds of images through the 204 pages. A small quibble (that David acknowledges in the book) is that the images are quite small and the detail that the text describes is often not obvious in the image; it would have been nice to have a few full page colour images throughout the book.
"The 960 réis Overstrikes" by David André Levy is a welcome addition to the library of the specialist 960R collector. It's equally interesting to anyone who collects Spanish colonial coinage. Even the numismatist who is interested in world coinage of the 19th Century would do well to own this book because it contains such a wealth of both numismatic and historical information. Highly recommended.
Posted by mnemtsas at January 8, 2012 12:42 PM
Subscribe to our Newsletter