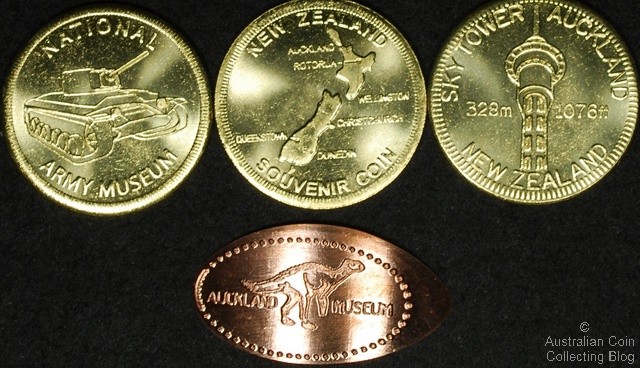 Souvenir Tokens and Pressed Penny
What holiday isn't complete without tacky souvenirs! We'd planned our holiday to be mostly coin-free until our last days in Wellington but numismatics always works it's way into anything and everything we do.
Our recent visit to Auckland consisted of much sightseeing, sore feet, expensive restaurants and we've come home decidedly poorer for all this. Upon entering the Auckland Museum I was drawn directly to the press-a-penny machine sitting outside the gift shop just waiting for a $2 coin. This machine was enticing because you turned the handle to make your choice from 4 designs and then turned another handle to press the design into a pre-prepared blank with your own strength. These types of machines had once made use of old pennies but now don shiny new token blanks.
After the excitement of physically pressing my own "Auckland Museum" squashed, elongated, rolled, flattened penny cent souvenir collectable (yes, they have a thousand names and are very popular) I was again excited when a machine was presented to me at the very top of the Sky Tower in Auckland. Standing at 220m above the ground in Sky Deck I put my $2 in the machine. With no fancy mechanical action, out popped my pre-struck souvenir coin.
It's surprising how many of these souvenirs I could have brought home with a machine at nearly every tourist attraction. At $2 each time the excitement was lost after a while. Further south the New Zealand Army Museum brought another opportunity in the foyer with the staff telling me it really cost them more than $2 for the souvenir token itself but the vending machine type operation couldn't function with a higher cost. It was simply one coin in and one souvenir coin out and the $2 is the largest denomination coin.

Posted by harrisk at April 20, 2012 8:50 PM
Subscribe to our Newsletter