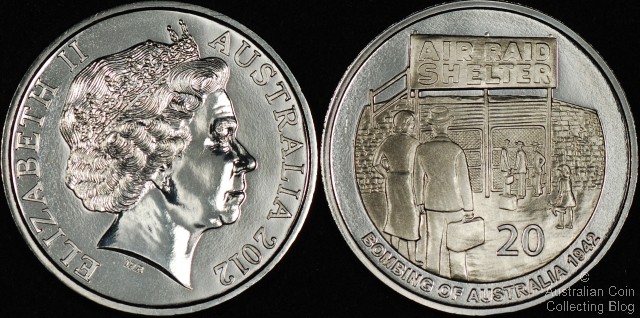 Bombing of Australia Air Raid Shelter 20c (1 of 2 20c coins)
Remembering 70 years since the start of Japanese air raid attacks on Australia at the beginning of World War II these two 20c coins are part of a 3 coin set released by the Royal Australian Mint titled "Shores Under Seige". Remembering these events reminds us the value of peace and our nations ability to rally together in times of need.
It was 19th February 1942 that Darwin first came under attack from the Japanese bombers destroying parts of the town, harbour, military and civil aerodromes, a hospital and the air force base. These attacks continued until November 1943 and by then Australia had been targeted over 100 times.
The top coin imaged depicts civilians awaiting entry to an air raid shelter whilst the second coin depicts the silhouette of a lone sentry keeping watch of our shores on a gun turret . Both these images have been sculpted to coin by ram designer Aaron Baggio. Both are 20c denomination of the standard size, weight and composition but have been minted for the collector market (NCLT) and have not been issued into circulation. The coins feature the Ian Rank-Broadley portrait of Queen Elizabeth II.
The third coin in this 3 coin set is a commemorative 50c.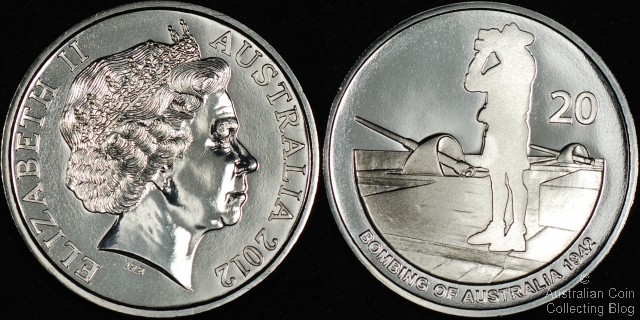 Bombing of Australia Lone Sentry 20c (2 of 2 20c coins)
Posted by harrisk at May 4, 2012 12:36 PM
Subscribe to our Newsletter