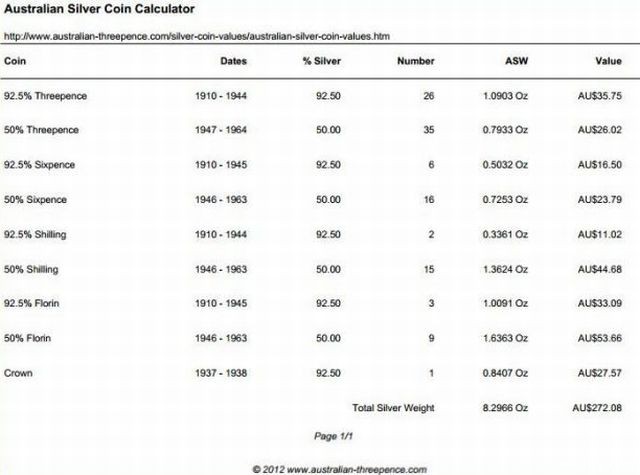 Australian Silver Calculator Printed to .pdf file
The silver and gold calculators are proving very popular with collectors and dealers as a quick and easy way to calculate and total the values of both individual coins, groups of the same denominations and mixes of all sorts of coins with differing silver and gold fineness. These can be scrap bullion coin lots, junk silver lots or simple hoards of silver coins.
It's an easy way to keep track of groups of coins and calculate what their values are with the everchanging silver and gold prices. If you're an auction house and you're listing up a bullion lot of scrap Australian pre-decimal coins you might type the numbers of each coin type into the calculator, export the page to pdf or csv and print to easily show buyers what that lot contains and it's bullion value.
Eg. Coin Auctions R'Us Auction 222 September 2012
Lot 62: Australian Pre-decimal coins bullion lot threepence to crown 8.29767oz silver
If you're a collector and you have a hoard of old coins that Grandma left you and you don't know what they're worth, simply add the number of coins to the corresponding coin type in the calculator and you've got an automatic calculation of what the bullion value of that group of coins is worth. Save the calculations to pdf and print the page, take to your local bullion dealer to see what they're paying for your bullion today!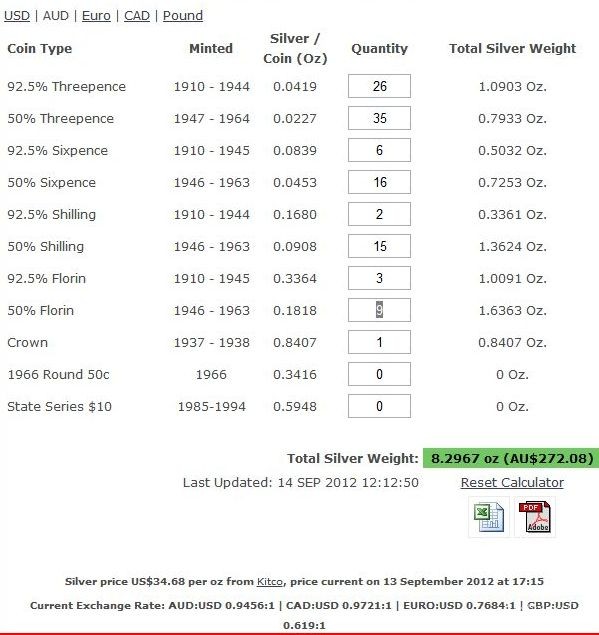 Australian Silver Calculator
Posted by harrisk at September 14, 2012 1:28 PM
Subscribe to our Newsletter