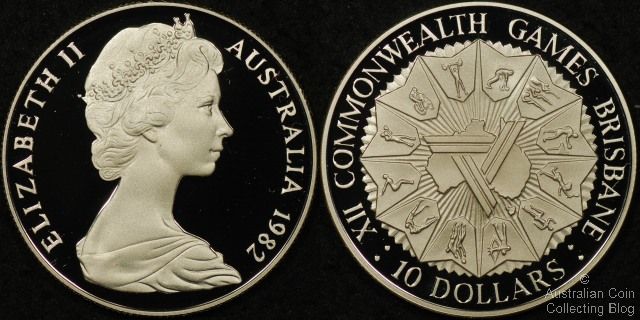 1982 10 Dollar Commonwealth Games Silver Proof
The 1988 10 Dollar Commonwealth Games coin was minted to commemorate the Brisbane Commonwealth Games in 1982. 85,142 proof coins were minted most struck by the Royal Australian Mint but due to industrial action at the time 10,048 were struck by the Melbourne based Stokes and Sons better known for medallion and button manufacturing. The difference in these issues is simply the box of issue.
The $10 coins are not a popular collecting series and as these coins are sterling silver can often be found being traded as bullion. For this reason the price fluctuates with the up and down Australian dollar and the rise and fall of the silver bullion trade. So it's worth keeping on top of the current pricing to see if you can pick up a bargain.
Todays silver price value for the 1988 $10 Commonwealth Games coin can be determined by the Australian Silver Value calculator. Or abra cadabra we've magically worked today's* rate out for you, Australian silver $10 include_once('silver-coin-values/inc/silver_value.php'); $value=$silver_price*0.5948; $string='AU$'.number_format($value*$aud,2).' (US$'.number_format($value,2).')'; echo $string; ?>.
*today right now, not the published date of this atricle. Internet coding at it's best! This value is updated every hour or so using the current silver price and exchange rates from Kitco.
Posted by harrisk at September 23, 2012 10:39 AM
Subscribe to our Newsletter