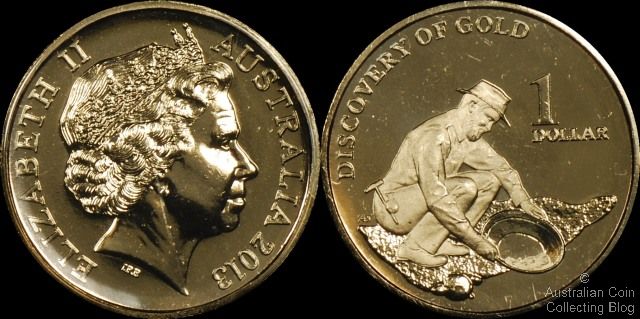 2013 Discovery of Gold, Australian Mining Dollar
The Discovery of Gold one dollar can only be found in the Australian Mining 2 coin sets issued by the Royal Australian Mint. It's reverse is designed by the new talents of Aleksandra Stokic, her initials AS can be found in the design near the prospectors mining pick. The coin design features a prospector panning for gold. The companion 20c is also in the theme of Australia's mining industry.
Today the mining industry employs more than 750,000 workers and supports communities and the Australian economy. The discovery of gold in the 1850's and the gold rush that followed brought immigrants and settlements and grew Australia's fledgling colony and it's riches helping make Australia what it is today.
This unique uncirculated one dollar is limited to a mintage of no more than 40,000 produced. The specifications are the same as the standard 25mm 9 gram aluminium bronze one dollars found in your change but this coin is released for collectors and not issued into circulation. It features the standard Ian Rank-Broadley obverse of Queen Elizabeth II.
Posted by harrisk at December 13, 2012 11:45 AM
Subscribe to our Newsletter