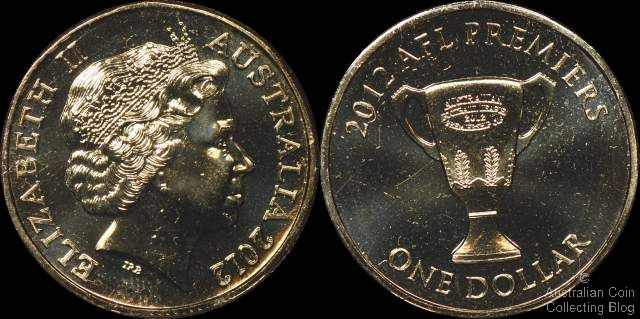 2012 AFL Premiers $1
Just to confuse collectors the Royal Australian Mint issued 2 different aluminium bronze one dollar coins to celebrate the AFL Premiership series in 2012. Different? Yes, barely different, so it's important we highlight this in an article spelling out the differences of these two football themed issues.
The first coin we'll call the 2012 AFL Premiers one dollar which depicts the premiership cup and can be seen above. The legends read "2012 AFL Premiers" on the reverse above the cup and "one dollar" below the cup. The obverse reads "Elizabeth II Australia 2012" as you find on all circulating coins. This coin was issued in a PNC by Australia Post.
The second coin type we'll call the Sydney Swans one dollar can be seen below which at first glance looks just the same as it's mate. The minor differences are that the legends read "2012 AFL Premiers" with "Sydney Swans" written below the same Premiership Cup. The obverse features the words "1 Dollar" and the Ian Rank-Broadley portrait of Queen Elizabeth II has been reduced in size to fit the extra text. It has been issued by the Royal Australian Mint in a folded card.
Both coins were not issued into circulation and feature a depiction of the actual Premiership Cup which is inscribed "Australian Football League 2012 Premiership Cup" complete with the oak leaf decal. It's not so easy to spot the differences without both coins in hand.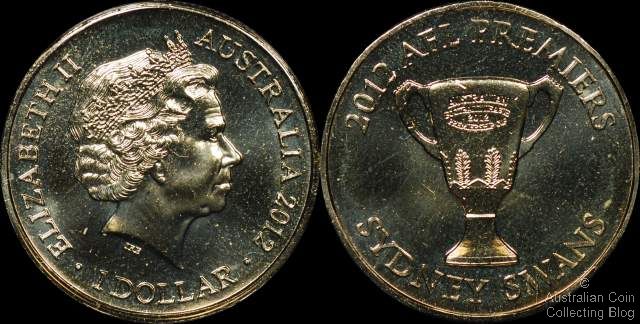 2012 Sydney Swans $1
Posted by harrisk at March 20, 2013 1:44 PM
Subscribe to our Newsletter