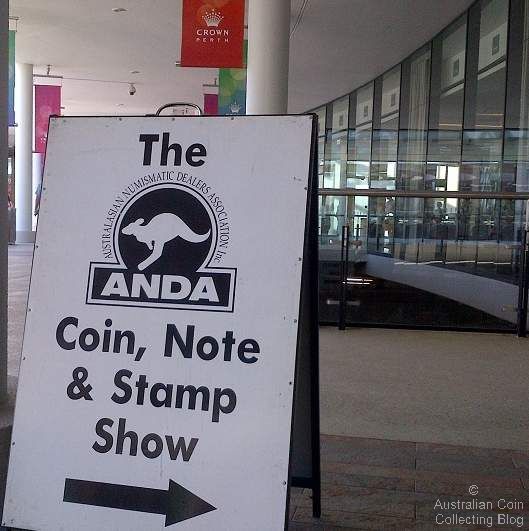 2013 Perth ANDA Coin and Banknote Show
The Perth ANDA Coin Show was held on the 2nd and 3rd March in the Crown Casino just outside Perth CBD. Eric Eigner, from Drake Sterling Numismatics, flew over there for the weekend and has shared with us a few words about the show.
In March each year, coin collectors from all over the country make the pilgrimage to Western Australia's capital city to attend what is arguably the country's largest ANDA Coin Show. Being the first show of the year to exhibit the mints' new product line-ups for 2013, the show promised to be a big one.
Like last year, the Perth ANDA Coin Show fell on the first weekend of March and was held in a large carpeted hall just off Perth's Crown Casino (formerly, the Burswood Casino). I flew over on the Friday and spent the first day in Perth examining the exhibits at the Perth Mint. We also visited the bullion trading desks, where collectors (and gold investors) could buy gold over-the-counter at the day's gold prices. Although the mint appeared to have the full range of Perth Mint product for sale, their range of gold sovereigns for sale was limited. The lady who served us said that demand for the smaller gold coins, including gold sovereigns, had been strong. Afterwards, we visited two or three local coin dealers, all of whom were excited about the show which would be held the following day.
Previous shows in Perth have always drawn large crowds, so when I arrived at the Crown Casino Saturday morning, I wasn't surprised by the length of the line leading up to the front door. I was as equally unsurprised by the length of the line at the Royal Australian Mint counter. The mint-your-own counterstamp dollars have always been popular with collectors, and this year's issue (commemorating the bicentenary of the Holey Dollar and Dump) has been particularly popular.
About thirty coin dealers attended the show this year, and many reported brisk trading into the early hours of the afternoon. Prospect Stamps and Coins, from New South Wales, had a typically wide range of mint product for sale, but were completely cleaned out of gold sovereigns. When I visited International Auction Galleries' table, Paul Hannaford showed me a pair of English half sovereigns, both of which did not look in any way out of the ordinary. Only when I flipped over the coins did I realise that the half sovereigns were not ordinary at all -they were in fact impressive examples of a reverse and obverse brockage, the first I have ever seen in Australia! Paul's range of rarities was equally impressive: The proof 1914-H florin, graded PCGS PR66, was particularly so.
Over the years, the range of PCGS or NGC-graded certified coins available for sale at ANDA shows has expanded. Five years ago, perhaps only one or two dealers might have had independently certified coins in stock (myself included); last week at the show, perhaps a quarter of the dealers had at least one PCGS or NGC-certified coin on display, with some dealers having nearly all their stock independently assessed. In fact, collectors who have snubbed so-called "slabbed" coins in the past due to their perceived high prices would be pleased to know that one dealer had a full tray of miscellaneous PCGS-graded coins for $28 per coin (or four for $100). Included in this "bargain bin" were various PCGS MS66 shillings, MS68 and PR68 decimal coins, and a small assortment of world coins. Considering that the minimum cost of grading is about $20 (including shipping to and from PCGS), a high-grade certified coin for $28 appears to be good value.
Perhaps an indication of coin collecting's broadening appeal, a TV crew from a local community channel spent a few hours interviewing some of the key players in the industry. Andrew Crellin talked about investment trends across the market, Paul Hannaford provided a brief background to some of his more interesting banknotes, and I discussed the impact of third-party grading on coin prices.
Overall, the Perth show was one of ANDA's better shows I've attended. Anecdotally, dealers appeared to have done well, while at least two collectors boasted to me about the bargains to be had. Prices on the whole appear to have moderated since the heady days of 2007, but the range of coins available for sale has also expanded. More importantly, it was great to catch up with old friends, and I look forward to flying over there again for next year's show.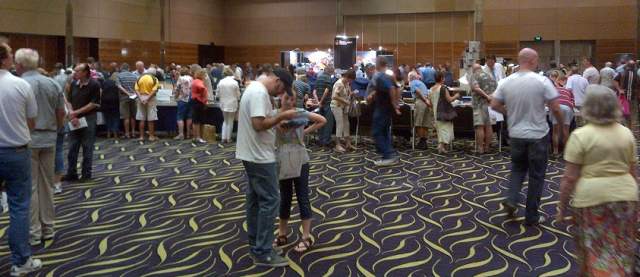 2013 Perth ANDA Coin and Banknote Show
Our thanks go to Eric from Drake Sterling Numismatics for helping out with write-ups of shows we're unable ourselves to attend. As a PCGS authorised dealer Drake Sterling Numismatics submits coins on behalf of collectors to PCGS for grading, contact them for more information.
Posted by harrisk at March 14, 2013 6:33 PM
Subscribe to our Newsletter