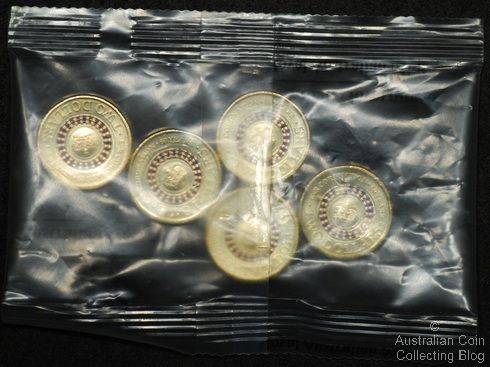 A Bag of 5 Purple $2 Coins from the Royal Australian Mint

A quick post about a further development in the purple 2 dollar coin for circulation release story. A press release from the Royal Australian Mint was issued today notifying us that 2 million of the purple coins would begin to be made available to banks via the normal distribution channels. However, for excited collectors who just cannot wait to receive one of the coloured 2 dollar coins in their change the RAM has decided to make a bag of 5 of the 60th Anniversary of the Coronation of Queen Elizabeth II $2 coins available for purchase at face value plus postage.
The catch is that you cannot buy them online via the RAM eShop, you must ring their sales hotline (1300 652 020 from within Australia or +61 2 62026800 for international collectors) and order that way. There's a limit of one bag of coins per customer. We're not sure how many bags are being made available (one rumour is 10,000 bags) but regardless, it's an exciting development and something most collectors would want to take advantage of. So ring the RAM now and pick up a bag of those purple $2 coins!
Posted by mnemtsas at June 21, 2013 10:43 AM
Subscribe to our Newsletter