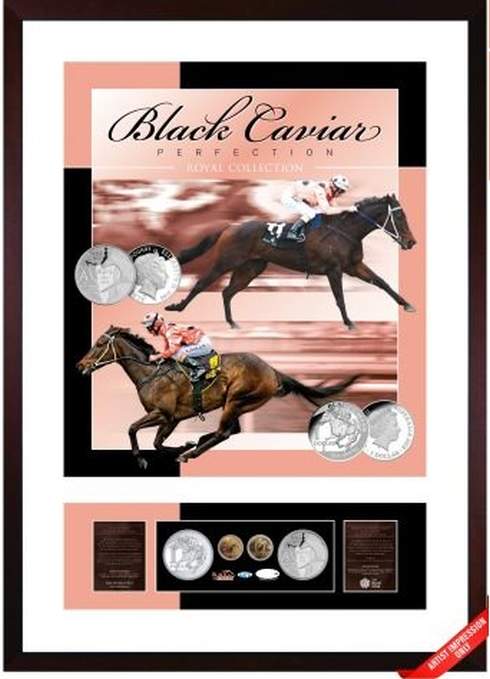 Australia 2013 Black Caviar Dollar in Silver included in the framed set
If you thought you had all the Black Caviar issues covered then think again. Limited mintages don't always mean the Mint can't strike more coins and issue them in different packaging! Someone is horsing around with us collectors!
In May 2013 the Royal Australian Mint issued a limited 2,500 1 oz fine silver proof Black Caviar coins which sold out in a flash. Followed closely by the same coin in a 2 coin set with a Cook Islands 1 dollar** struck by the Royal Mint also with a mintage of 2,500. The Mint's own website confirmed that 5,000 coins would be the complete mintage for this coin, a vital piece of information for collectors and investors.

Screenshot from www.ramint.gov.au suggesting a 5,000 total mintage
Now it appears a further 1,000 1oz fine silver coins* have been minted for a framed collection which includes the Cook Islands 1 dollar and the two aluminum bronze Australian coins retailing at $799 bringing the total mintage for this coin up to *6,000, not the 5,000 originally suggested to collectors. Coin collecting is a very expensive hobby!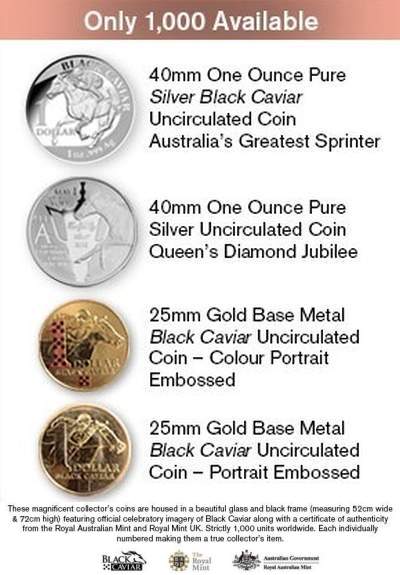 Coins included in the framed set
*Correspondence from the Royal Australian Mint says they haven't minted more coins - the Black Caviar licensing company have in used 1,000 of the single packaged coins to make up the framed sets. This means there are only 1,500 coins in the single coin boxed packaging and not 2,500 as previously thought. The complete mintage of the Black Caviar 1 oz silver proof is still 5,000 coins as the RAM states on the packaging.
**The Cook Islands 1 dollar minted and used in these Black Caviar sets depict a "fine racehorse" and aren't a specific depiction of Black Caviar. The coin commemorated the Queen's Jubilee year and her relationship with the Royal Ascot racecourse and the Gold Cup which was one of the races won by Black Caviar in 2012.
Posted by harrisk at July 14, 2013 4:46 PM
Subscribe to our Newsletter