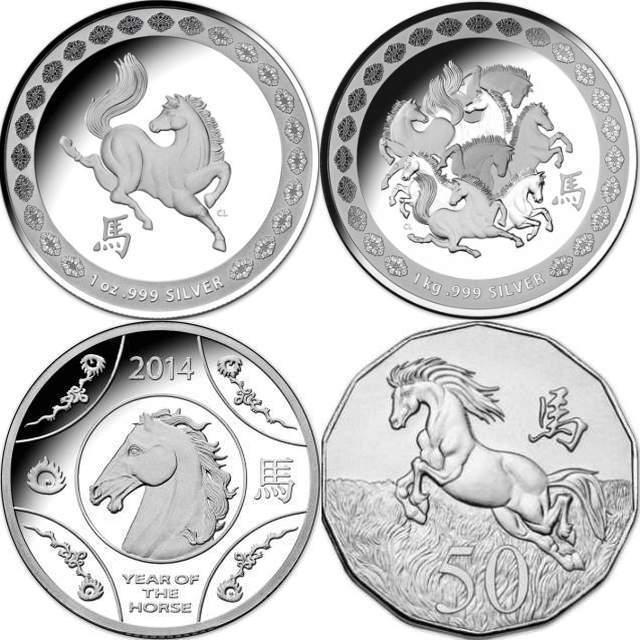 Australia 2014 Lunar Year of the Horse Coins (image courtesy www.ramint.gov.au)
If you're a horsey person then 2014 is your year! The Chinese Zodiac rotates 12 animals and for 2014 it's the Lunar Year of the Horse. As such various Mint's around the world strike special coins to commemorate this or celebrate the birth of a little one born under the chinese sign of the horse. The Australian Mint's both the Perth Mint and the Royal Australian Mint take the opportunity to mint coins in fine silver and gold, many as bullion products. Australia's circulating coin producer the Royal Australian Mint will, on September 2nd release their 2014 offering with 4 different designs.
Above top left is the RAM's 1 ounce fine silver proof-like 1 dollar offering with the "Kicking Horse" design, this coin with a mintage of 10,000 coins. The design is by Chrissy Lau, an artist and illustrator based in Sydney. It will also be minted in 5 ounces of proof-like fine silver with a $10 legal tender value. If you like Chrissy's design and prefer it in gold and you have deep pockets then the $100 1 ounce proof-like gold coin will set you back $2,275 with a mintage limit of 1,500 coins. In the special made to order program a $500 gold proof will also be available with this design.
Above top right you see the largest coins in the RAM's Prestige Lunar Series a whole kilogram of fine silver coin with a $30 legal tender value. This design of Eight Horses is also by Chrissy Lau. Struck in proof-like fine silver this huge 99.95 millimetre coin will have a maximum mintage of 1,500 coins. Again in the made to order program is a $3,000 face value gold proof coin, you'll have to contact the RAM sales team for more information if you are interested in that one.
Above bottom left is the fine silver proof (mintage 10,000) version of the (seen below) aluminium bronze 25 millimetre one dollar coin. This al br 9 gram coin is the same as a $1 coin found in change but is not issued for circulation, as with all these coins they are NCLT or non-circulating legal tender. The aluminium bronze dollar retails for $13.50 and the fine silver boxed proof $55.
Above bottom right is the tetradecagon 50 cent, a coin with 14 sides instead of the usual 10 for our fifty cent. It's struck in cupro-nickel, the design featuring the chinese character for horse in the sky above an unbridled horse cavorting in fields of grass. The copper-nickel 50 cent has an unlimited mintage and is released in a collector card and a presentation box at $12.50 each.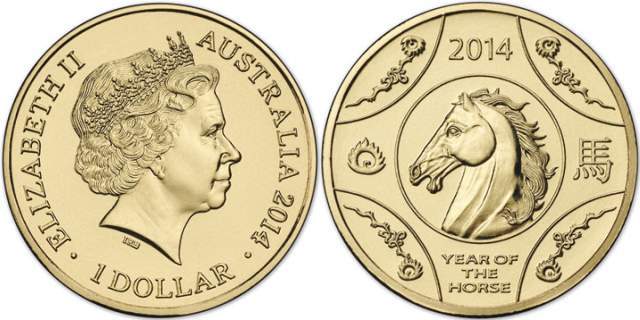 Australia 2014 Lunar Year of the Horse Aluminium Bronze 1 Dollar (image courtesy www.ramint.gov.au)
Posted by harrisk at August 29, 2013 3:20 PM
Subscribe to our Newsletter