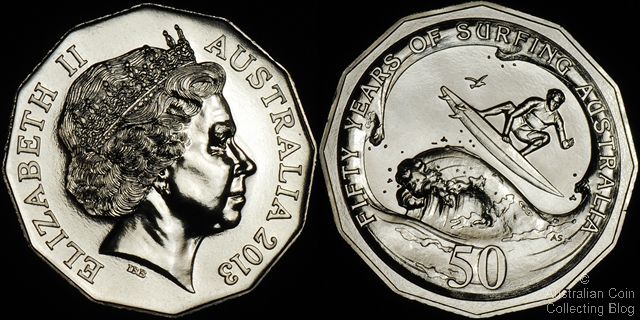 Australia 2013 Fifty Years of Surfing 50c
With surfing so ingrained in Australian culture as a sport and pleasure activity, as well as celebrating the 50th Anniversary of Surfing Australia (as the Australian Surfriders Association), it's no surprise that the Royal Australian Mint would eventually press a coin in tribute to this wonderful sport and in celebration of this great milestone.
And yet it might surprise some to learn that Surfing was "discovered" during Captain Cook's expedition to Australia in 1778. After Captain Cook's death (during a skirmish over a stolen boat), Lieutenant James King continued to update Captain Cook's diaries, adding the first written account on how to ride the waves.
Around 1866, surfing is written about once more, when Mark Twain wrote about his unsuccessful surfing experiences in his book, Roughing It, when sailing to the Hawaii islands. There's not too much written information after that, and sadly at the turn of the century, due to European influences and changes within Hawaii culture, it appeared that surfing had almost died out, with only a few devotees keeping the sport alive.
However in 1907, a friendship formed between three people that would propel the "Sport of Kings" into the limelight.
While visiting Hawaii, American author Jack London was introduced to the sport through his journalist friend Alexander Hume Ford, and from that date on wove his continuing love of surfing into many of his books.
Alexander Hume Ford petitioned for land, forming the Hawaiian Outrigger Canoe Club, the first club dedicated to riding the waves.
Then London and Ford met half-Irish, half-Hawaiian George Freeth on the Waikiki beaches. George just loved to surf and was to become the "Father of Modern Surfing", commencing with a demonstration of his surfing skills during a Redondo-Los Angeles Railway promotional event in California.
And then in 1915, the Australian beach scene was to be changed forever. After winning gold for the 100 metre freestyle swim at the Stockholm Olympics, the NSW Swimming Association invited Hawaiian Duke Paoa Kahanamoku to an exhibition at the Domain Baths, Sydney. During this visit, Duke made himself a board and rode waves at Manly's Freshwater Beach. A whole new Australian culture, lifestyle and language was borne.
So now we have "boogers" (body boarders) and "shubee's" (someone who is all dressed up to surf but has never surfed) and a "hang ten" (the most difficult surfing manoeuver - all ten toes on the nose of the board).
In Australia, you can do a 1 year full-time or 2 year part-time Diploma of Sport Management (Surfing Studies) with Southern Cross University (endorsed by the professional body, Surfing Australia), Gold Coast; or enroll in a 3 year Surf Science and Technology degree at Edith Cowan University, Western Australia.
Our most recent Australian World Professional Surfing Champions include Mark Occhilupo (1999), Layne Beachley (1998-2003 and 2006), Chelsea Georgeson (2005), Mick Fanning (2007, 2009), Joel Parkinson (2012) and Stephanie Gilmore (2007-2010 and 2012) who has the pleasure of being depicted on the unique packaging and highly appropriate surfboard shaped holder of this coin.
The NCLT (non-circulating legal tender) 50 cent Surfing coin is made from cupro-nickel, has a dodecagonal shape (12 sided) and is also found issued in an Australia Post PNC.
The image of a surfer and wave in a wave tunnel border on the coin reverse is designed by Aleksandra Stokic, with the obverse portrait of Queen Elizabeth II by Ian Rank-Broadley.
The 50th Anniversary of Surfing Australia 1963-2013 coin retails at $9, with unlimited mintage but will be determined by collector demand.

Australia 2013 Fifty Years of Surfing 50c in freestanding display card (image courtesy www.ramint.gov.au)
Posted by harrisk at September 25, 2013 2:49 PM
Subscribe to our Newsletter