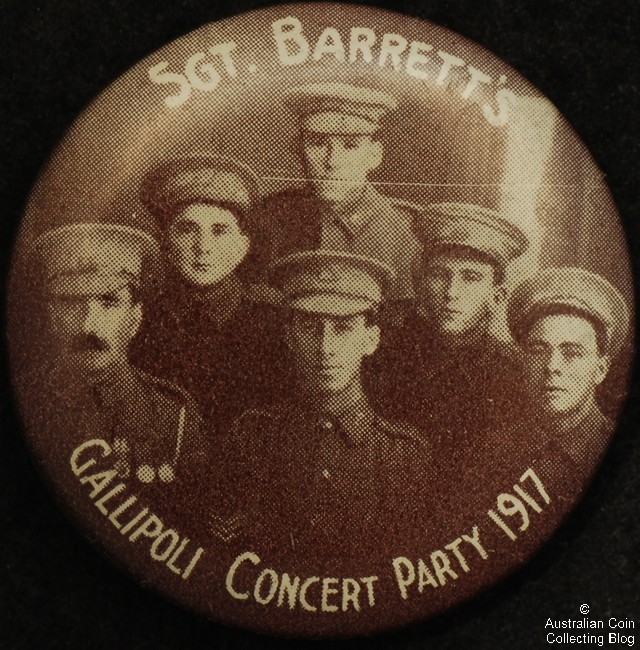 Sgt. Barrett Gallipoli Party 1917 Tin Badge
This badge measures 32mm and is tin-backed with a spring pin mount. The black and white image of 6 Australian World War 1 soldiers appears to be printed on paper and coated in celluloid. The legend reads "SGT BARRETT's GALLIPOLI CONCERT PARTY". To date we are aware of three types of Barrett tin badges and this seems to be the most common.
Sergeant Barrett appears to be one Sergeant J.R. (James Robert) Barrett who served in the 9th Light Horse. Research we have conducted suggests he lived in Glenelg, South Australia. He enlisted in the 9th Light Horse in 1914 and left Australia as a private for the middle east in 1915. It seems that he served well at Gallipoli and was injured at least two times, once receiving a broken arm and a second time receiving a shell wound to the groin. He also appears to have succumbed to illness (as did many at Gallipoli). Because of the mental and physical impact of the illness and the injury to his groin he was declared medically unfit and was returned to Australia in 1916 on medical grounds as a sergeant.
At some stage it appears that Barrett chose to form and lead an entertainment troupe to tour small venues around Australia. Presumably he did this to help to raise funds for the war effort or for returned veterans. Part of this fund raising effort almost certainly involved selling these badges, which was a common method of fund-raising in Australia during WW1 and immediately after the war. We can find evidence that Barrett was conducting concerts in both 1917 and 1918 in venues as far apart as Broken Hill in the far west of New South Wales and Victor Harbor in the south of South Australia.
References:
Barrier Miner, Friday 13 July 1917, Page 3 "Gallipoli Concert Party"
Barrier Miner, Saturday 14 July 1917, Page 5 "Gallipoli Concert Party"

Posted by mnemtsas at March 18, 2014 7:31 AM
Subscribe to our Newsletter