The Numismatic Association of Australia or NAA is an organisation promoting numismatics around Australia. It is the collective voice for all Australian numismatic clubs and societies, and also has representation from New Zealand. The national body was founded in the early 1980s by the late Ray Jewell to be the unified voice of collectors, dealers, numismatists and academics within numismatics in all aspects of the hobby.
The NAA holds a 2-3 day conference every second year with guest speakers and a conference dinner, which is a wonderful opportunity to meet and discuss the hobby. Conference registrants can catch up with friends and get right into their special interests for a couple of days.
The Association publishes an annual journal packed with informative and well researched articles. Being a member of the NAA entitles you to a free copy of this journal. Membership, for which there is an annual subscription fee, is open to individuals and organisations both here in Australia and overseas. The NAA is sponsored by leading dealers around the country and also one in the United States.
The NAA has recently undergone a website upgrade, as part of which it also changed its domain name, from www.naa-online.com to www.numismatics.org.au. Here you can browse articles from the journal, check events around the country and see information about its three numismatic awards given for contributions to numismatics and excellence in journal articles - the Ray Jewell Award, both Silver and Bronze, and the Paul Simon Memorial Award.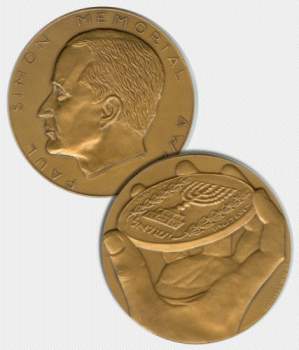 The Paul Simon Memorial Award designed by Michael Meszaros
Posted by harrisk at April 3, 2014 2:09 PM
Subscribe to our Newsletter