There are many, many themes or approaches you can adopt for your coin collections. One method might be to collect the Australian dollar series. Sounds simple enough? It's much more complicated than it first appears. You have to decide where your interest lies and where your pocket or investment will take you. You might well say that you'll just collect them all but when you add them up there are hundreds.
Both the Royal Australian Mint (RAM) and The Perth Mint produce coins that are legal tender to the value of one dollar in Australia. These needn't be the type of coins that we generally recognize as $1 in Australia. Often The Perth Mint produce coins of different size and composition to that of what we are used to. The generally recognized one dollar coin is the 25 millimetre aluminium bronze dollar. It's composition is 92% copper, 6% aluminium and 2% nickel and weighs 9 grams. It has interrupted reeding on it's edge. This is the size and composition of coin you will find in your change and Non-Circulating Legal Tender coins (NCLT). Because of the similaries to regular circulating coins in size and color the latter are sometimes found in change but are not issued to be circulated as currency.

For example last year in 2008 the Royal Australian Mint released numerous aluminium bronze one dollar coins. The standard Mob of Roos design was released into circulation as well as an issue commemorating 100 years of the Scouting movement. Non-circulating legal tender (NCLT) issues were vast and these are intended to be collectors pieces and not be found in change, however sometimes people will spend these for a dollar. Releases for 2008 included the International Year of Planet Earth dollar, Centenary of Rugby League, Centenary of Quarantine and the Mary MacKillop dollar.
Also released by the RAM are what I will call mintmark variety dollars. These are a design each year that feature a mintmark, counterstamp or privymark, mainly either a C, S, B or M in a circle or square surround. For more information about these marks please see my other post about mintmarks and privy marks. The design for this dollar for 2008 was the Centenary of the Australian Coat of Arms.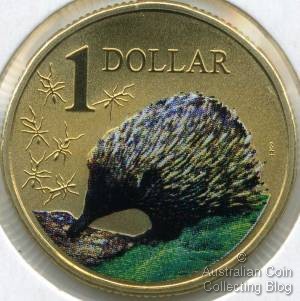 Australia 2008 pad-printed Echidna Dollar
Since 2006 the RAM has adopted a pad-printing process to decorate the reverse one dollar coins in the 06-07 Coloured Ocean series and for 2008 the Coloured Land series. These have a painted design and would stick out like a sore thumb in your change. The Land series so far includes the Koala, Wombat, Echidna and Rock Wallaby.
Getting back to collecting themes now that we know what sorts of Australian dollars are issued you can decide what you want to collect. You might want to stick to those coins only that you would find in your change. Extend that further to include 25 millimetre aluminium bronze releases that look the same as you would find in your change. Expand that again to include the mintmark variety dollars that all look the same but carry a different symbol indicating their origin. Now to make things even more difficult we could extend that to include issues where the coin is the same but the packaging is different such as in the year 2000 the NCLT Victoria Cross dollar came in an official RAM folder and also in a For Valour PNC. Beyond this (remember this is getting quite expensive now) you might choose to collect all the NCLT dollar coins that differ in size and composition to that of the circulating one dollar such as the One dollar pure silver Kangaroo series issued by the RAM each year. These coins are often specimen or proof quality and may be gold plated or similar. These examples are larger coins at 40.6 millimetre but all these NCLT issues differ.
Remember what you choose to collect is totally up to you. As long as you are happy with it that's all that matters. If you have been inspired by my post please continue to read up on storage solutions for your collection, a collection can become worthless if it's stored incorrectly.
Posted by harrisk at January 28, 2009 12:28 PM
Subscribe to our Newsletter