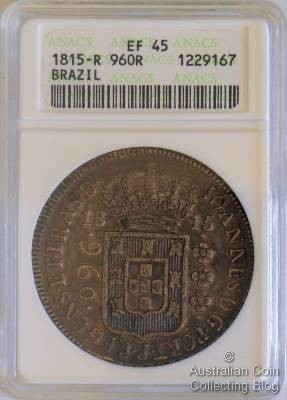 ANACS EF45 Brazil 1815 960 Reis
Third Party Grading Companies Start
To try to level the playing field the American Numismatics Association formed the first third party grading company in 1972. ANACS (the American Numismatic Association Certification Service) offered to grade and authenticate coins on an impartial and fee for service basis and return them to collectors. The aim of ANACS was to provide collectors a service that would grade and authenticate a coin completely independently without any bias. This would help bring confidence to the coin market and allow for less conflict and trouble in the buying sight unseen coin market.
Since the founding of ANACS many more TPG's have been founded. Currently PCGS (Professional Coin Grading Service) sit at the top of the TPG heap, with NGC (Numismatic Guarantee Corporation) and ANACS being excellent but less well regarded grading companies. The major US grading services will grade and authenticate coins for collectors and if a coin is found to be genuine and not a problem coin they will return the coin in a 'slab'. A slab is a sonically sealed plastic holder for the coin that includes a label with the coins type and grade.
There are third party grading companies in other countries (such as the Canadian Coin Grading Service and Coin Grading Australia) but these generally do not currently supply coins in tamper proof slabs. This leads to possible coin swapping and fraud on the behalf of coin sellers. They do have some advantages though, as they may be better at grading their local coins than the major TPG's in the US. This is simply because they have more experience with the local currency, the nuances of each denomination in terms of strike quality from year to year and so on.
In the next part of this series I'll cover some of the advantages of using third party grading companies.
Posted by mnemtsas at January 6, 2009 9:02 AM
Subscribe to our Newsletter