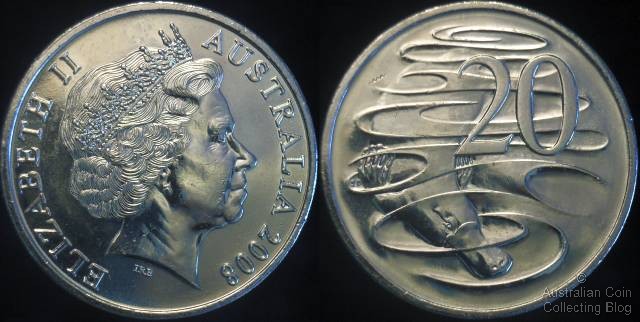 Australia 2008 20 cent
In 1963 a competition was held to design the new Australian decimal coinage that was to be introduced in 1966. The new decimal coins were to replace the predecimal coinage that had been in circulation since 1910. Six competitors vied for the honour of designing these new coins.
One of these designers was Geelong born artist and goldsmith Stuart Devlin. Devlin and the five other competitors met monthly to discuss their ideas and designs offering each other constructive criticism. Stuart Leslie Devlin couldn't go past featuring Australian native fauna on the new coins to help them be a winner with the Australian public. Stuart Devlin was announced the winner with the 1 cent coin featuring the feather-tailed glider, the 2 cent a frilled neck dragon lizard, 5 cent a spiny echidna, the 10 cent a lyrebird, the 20 cent duck billed platypus and the 50 cent Australian Coat of Arms. The kangaroo didn't leap onto a coin design (aside from the coat of arms) until the one dollar in 1984. Devlin wanted depth in his designs and the feeling of movement in the coin design. Hence the 20 cent platypus, Devlin's favourite brings the idea of looking through water at the platypus swimming into the third dimension.
In 1988 his artistry became computerized allowing him to realize his design much faster. It takes an average of a month for Devlin to design a coin, with 2 weeks spent on research and 2 weeks for the design. The design on paper must then be modified to involve depth and details and is sent to a sculptor to make a 3-D plaster model. It is then sent to the mint for approval.
Devlin, the designer who is said to have the "midas touch" now resides in England and has designed coins for over 36 countries in his career. His designs have stood the test of time, still being minted today and have been circulating for 40 odd years. It is interesting to note that very few of his designs actually carry his initials. On this Devlin states "It is satisfaction enough to know that millions of people throughout the world carry my work in their pockets."
Posted by harrisk at January 6, 2009 7:32 PM
Subscribe to our Newsletter